By Melanie Ave
ST. LOUIS — Scripture says children are a blessing from God. But for Christian couples struggling to have a baby, children can be a deeply painful and challenging topic — especially when infertility medicine enters the picture.
The ethical question of what is God-pleasing in the field of infertility medicine was at the center of the Infertility Ethics Symposium, held Nov. 8 at Concordia Seminary, St. Louis. About 75 pastors, seminarians, commissioned ministers, deaconesses and parish nurses attended the first-ever event, which was sponsored by LCMS Life Ministry and the Concordia Seminary Life Team.
Six pastors presented on topics ranging from pastoral care to embryo adoptions. Each of the presentations will be added as a free, downloadable resource on the LCMS Life Ministry website.
Advances in infertility medicine have made assisted reproductive technologies such as in-vitro fertilization (IVF) and embryo adoption commonplace. But Lutherans need to consider the deeper moral and ethical issues involved with using such biotechnologies, said Ed Szeto, special projects coordinator for LCMS Life Ministry.
"This is a conversation that needs to be going on in the church," he said. "Infertility is an issue that many in our pews have to deal with and it is a unique issue in that it is both very personal yet very public.
"If we do not talk about the spiritual aspects of what is happening when using assisted reproductive technologies, then many people will assume that there aren't any spiritual problems that need to be taken into consideration."
One of the attendees, Sara Schultz, 24, a deaconess student at Concordia Theological Seminary, Fort Wayne, Ind., said she now realizes what a big issue infertility is for many women.
"If deaconesses aren't prepared to talk about these issues with women, who is?" Schultz asked. "This is really important and a lot more prevalent than people would think."
The Rev. Dr. Jeffrey A. Gibbs, professor of Exegetical Theology at Concordia Seminary and faculty liaison for the student-led life team, said the symposium began an open conversation about the sorrows and challenges couples face and the medical procedures available that enable them to have children.
"This was all done in a compassionate way that adorned well the Gospel of Jesus," Gibbs said. "Solid Christian teaching on life and clear, basic science came together."
'Big business'
Infertility is commonly defined as the inability of a couple to achieve pregnancy after one year of unprotected sex.
Citing statistics from the U.S. Centers for Disease Control and Prevention, the Rev. Dr. Kevin E. Voss, associate professor of Philosophy and director of the Concordia Center for Bioethics at Concordia University Wisconsin, Mequon, Wis., said infertility affects 9 percent of the population and 12 percent of women of child-bearing age in the United States have used an infertility service. As of 2006, the most recent year figures were available, infertility medicine was a $3 billion a year business.
"It's big business," said Voss, a member of the LCMS Sanctity of Human Life Committee.
His presentation, "An Ethics Survey of Reproductive Counseling Practices in the Lutheran Church," gave an overview of a 112-item survey of reproductive counseling practices by clergy.
About 45 percent of LCMS pastors Voss surveyed said they believe their congregants have used IVF without talking to them first, a statistic he described as "sad."
Voss said his research shows a need for direct, morally guided reproductive counseling by parish pastors.
"What I've heard from pastors in the parish, they know the theology but they don't know the science enough to apply the theology," he said.
Voss said clergy need a solid theological foundation and they need to get a general background in infertility procedures "so they know enough to appreciate a red flag when they see it."
'Be fruitful'
The Rev. William M. Cwirla, senior pastor of Holy Trinity Lutheran Church in Hacienda Heights, Calif., gave a presentation titled "Be Fruitful and Multiply: Fertility Ethics Viewed in the Light of Creation and Redemption."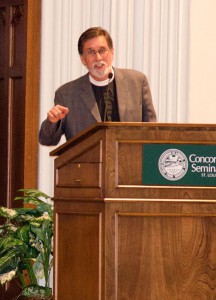 Cwirla said his interest in infertility is both pastoral and personal. He and his wife of nearly 25 years, Karen, do not have children.
"This has not been by our active choice so much as by passive default," he said. "As we like to say to the ever-inquisitive church ladies … we have never said no to God concerning the gift of children and God in His complete wisdom has never said yes."
Even so, Cwirla said he and his wife's identity comes from their Baptism in Christ Jesus, "not how many or how few children the Lord has put around our table."
Cwirla said the biblical doctrines of creation and redemption must be considered in order to have a theologically informed discussion about infertility.
"We are stewards and we are priests of God's creation," he said. "We have been granted dominion to do good. If we lose our sense of sacredness and mystery on account of our science and technology, we risk losing our very humanity. Our dominion over creation, including our own bodies and their biology, must never become our dominion over God himself.
"The sacred mystery of husband and wife as one flesh must remain inviolate or people have completely lost the notion of what it means to be male and female, created in the image of God."
'Lots and lots of problems'
The Rev. Dr. James I. Lamb, executive director of Lutherans For Life and also a member of the LCMS Sanctity of Human Life Committee, presented on the topic of "IVF: From Created to Creator."
Lamb gave a brief overview of the IVF process in which embryos are created outside the body and then graded based on their appearance. He said embryos can be destroyed at that point, implanted, frozen for later use or donated for research. They also can be tested to determine their gender and check for genetic disorders.
"It just raises lots and lots of problems," Lamb said.
IVF is becoming the go-to treatment for infertility, he said.
"Looking to these technologies, IVF and so many others, they can become our god," Lamb said. "In the Large Catechism, Luther says that whatever we look to for more help and more good than God becomes an idol for us. It becomes our god. The more we do that, the more these technologies can take the place of god in our lives."
When addressing IVF, Lamb said Lutherans should not begin with the social, moral or biological aspects, but rather, should start with the incarnation of Jesus at His conception.
"Jesus started where we did," Lamb said. "The path to the cross and to the empty tomb did not start in a manger. It started in a fallopian tube. You see, Jesus needed hands and feet to be nailed and pierced and bleeding. Jesus needed a mouth so he could utter that forsaken cry. Jesus needed a brow so it could be crowned with thorns. Jesus needed a heart so it could be stilled in death. And Jesus needed a body so it could be buried in a tomb and then raised again to the glory of the Father."
Embryo adoption
"Embryo Adoption: Helping or Hurting My Neighbor" was the topic addressed by the Rev. Dr. Robert W. Weise, who holds the Lutheran Foundation of St. Louis Chair in Pastoral Ministry and the Life Sciences and is professor of Practical Theology at Concordia Seminary.
One of the byproducts of IVF and direct egg-sperm injection is leftover embryos. Currently there are an estimated 600,000 unclaimed frozen embryonic human beings stored in liquid nitrogen.
Should couples adopt these frozen human embryos, sometimes called snowflake babies? Does embryo adoption help or hurt? Weise asked. His answer: yes, and yes.
"Yes, it helps the neighbor," said Weise, a member of the LCMS Sanctity of Human Life Committee. "It's helping them. But also it's hurting them."
Most of the parents who relinquish their frozen embryos don't want to give them up, Weise said. And many of the embryos die in either the freezing, unfreezing or fertilization process.
He showed a short video of a 12-year-old girl who was one of 20 embryos adopted by her parents. None of the other embryos survived.
"Embryo adoption is not addressed in Scripture," Weise said. "It is a challenge. From one standpoint, we have to go back to where we are as Christians and our identity and deal with all of these subjects that are here. Embryo adoption is very troubling because it does involve surrogacy, it does involve the outside creation of embryos and the support of that. There are a lot of things to consider in this process."
Pastoral care
The Rev. Christopher S. Esget, pastor of Immanuel Evangelical Lutheran Church, Alexandria, Va., spoke on "Pastoral Care for Those Experiencing Infertility and Miscarriages."
Esget said barrenness is linked to mankind's fall into sin and causes serious spiritual challenges for many Christians including guilt, temptation, anger and despair. He recalled Hannah in the Old Testament whose cries about her barrenness were not polite and broke all decorum in a place of worship.
"If we're going to discuss pastoral care for those suffering infertility, miscarriage and other tragedies, we most need to understand that bitterness of soul experienced by so many people," Esget said. "There are many Hannahs sitting in the pews of our churches.
"They're empty. They're sad," said Esget, a member of the LCMS Sanctity of Human Life Committee. "They're filled with bitterness about the curse in their bodies. Some women feel the pain in childbearing. Others feel the pain in not having this gift. And then there are children who are no more who never draw a breath, passing away without a funeral, their only baby shower being the tears of parents grieving in secret. Why? There is no answer. Not any particular one. God's ways are hidden from us."
Esget, who felt God hated him after his wife's miscarriage, said pastors need to understand the "bitterness of the soul" of people suffering infertility and miscarriage.
He recalled one woman who came up to him after church and whispered in his ear after his wife's miscarriage, "We love you and are hurting for you."
"Those simple words did more for me than everything else put together," Esget said. "Having somebody to identify with your pain and share it then begins the journey to the cross, where we find in Jesus, the One who loves us and hurts with us."
Pastoral care also must be ongoing, Esget said, since barrenness and miscarriage is an ongoing reality for couples.
"Ultimately, then, our pastoral care for those who suffer infertility, miscarriage and every other trial is to point them to the end of the Bible, the end of the creed, [in which] we believe in the resurrection of the dead, the life of the world to come and in that day, a new creation, the former things will be forgotten," he said. "Until that day comes we'll keep on loving, praying and forgiving."
Merritt Demski, 27, a vicar at Immanuel Lutheran Church in Waterloo, Ill., said he appreciated the symposium's balance of academics and pastoral care.
"As a man who cannot have children due to a genetic issue, I also enjoyed hearing from pastors who 'get it,' " Demski said. "They confirmed that it's not just something to get over, but [it is] a lifelong grieving process as someone finds out that not everyone can naturally be a parent."
Infertility ethics
The Rev. Peter Brock, pastor of St. John Lutheran Church—Bingen, Decatur, Ind., discussed the theological perspective through which LCMS members and pastors view the ever-changing landscape of infertility medicine.
He emphasized the biblical vision that orients and directs Lutheran thinking about infertility.
"I contend that the Lutheran church's engagement with infertility ethics necessarily reveals what we finally believe about God and humanity," he said. "That confession must direct our witness to the world, our mercy for the neighbor and our life together both as the body of Christ and fellow human creatures."
David Walsh, 24, a student at Concordia Theological Seminary from Rochester, N.Y., said the symposium expanded his understanding of infertility, an issue he needs to be aware of as a future pastor.
"Classes can only prepare you for so many situations," he said. "This is an opportunity to learn about a certain situation that may get unintentionally overlooked."
Posted Nov. 24, 2014