By Melanie Ave
A violent rash of storms that swept through the central, southern and eastern United States April 27-May 1 damaged or destroyed the homes of several LCMS members, severely damaged one church, flooded the home of one pastor and caused minor flooding at four church buildings.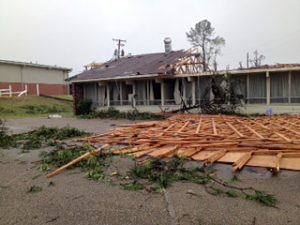 As a result, LCMS Disaster Response awarded an immediate $34,000 grant to the LCMS Southern District to help church workers, members, congregations and schools that have been affected.
"It's during times of disasters like these that we as a Synod walk closely together to be a blessing to the world that is all around us," said LCMS Director of Disaster Response Rev. Ross Johnson. "The LCMS is responding with care, compassion and capacity to respond to the need of its members, churches and their communities during this time of disaster."
The LCMS is assisting congregations as congregations help their communities recover from the storms, bringing mercy and the Gospel.
Johnson and the Rev. Michael Meyer, manager of LCMS Disaster Response, traveled to Arkansas April 29 to assess the immediate and long-term needs in the tornado-damaged communities of Mayflower and Vilonia. While there, they distributed $3,600 in gift cards and other emergency assistance.
Johnson and Meyer were following the path of the storms, meeting with congregation and district leaders along their way from Arkansas, Mississippi and Florida to assess the damage and begin to plan a coordinated disaster response.
According to initial reports, the storms affected several LCMS members, congregations and one pastor.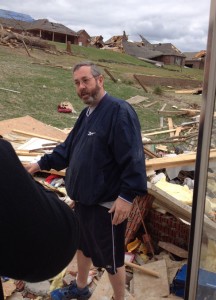 The Mayflower, Ark., home of Jimmy and Mary Womack of Shepherd of Peace Lutheran Church in Maumelle, Ark., was destroyed by an EF-4 tornado. The couple and one of their three children were inside the home at the time but were not injured.
Holy Trinity Lutheran Church in Tupelo, Miss., suffered extensive damage to its parish hall and sanctuary from an EF-3 tornado. The home of a member couple was destroyed but the family was not injured.
The Pensacola, Fla., home of Rev. Randy Blankschaen, pastor of Immanuel Lutheran Church in Pensacola, was flooded. Most everything was destroyed by the flood waters that stood 4-feet high inside the home.
The home of one member family of Immanuel Lutheran Church in Pensacola, Fla., was flooded.
Other Pensacola-area churches reporting some minor flood damage, include Redeemer, Good Shepherd, Grace and St. Matthew Lutheran Churches.
LCMS Mid-South District President Rev. Dr. Roger Paavola said in an email to supporters that the district is "prepared to respond in the most positive way for those who have suffered physical and property damage."
Peace Lutheran Church in Conway, Ark., is acting as the designated coordination point for volunteers who want to help with cleanup efforts. To volunteer, contact the Rev. John Gierke at 501-329-3854 or jpgierke@peaceconway.org.
LCMS Southern District President Rev. Kurtis D. Schultz said the damage assessment in his district is continuing and includes devastation from tornadoes and floods. He is unsure of exactly how members have been affected.
"Overall, we are thankful that there was not greater damage throughout the district," Schultz said. "We also are thankful for the response of the church. There have been so many responses offering care and prayer. It's been a great blessing for them to come alongside us.
"We continue to ask them to pray for us."
To learn more about LCMS Disaster Response, click here.
To make an online gift, visit https://www.lcms.org/givenow/disaster. To make a credit-card gift by phone to LCMS Disaster Response, call the LCMS toll-free gift line between 8 a.m. and 4:10 p.m. CDT at 888-930-4438. To make a donation by mail, simply indicate the gift designation on the check and send to: The Lutheran Church—Missouri Synod, Mission Advancement, 1333 S. Kirkwood Road, St. Louis, MO 63122-7295.
To see a photo album from the damage in Tupelo, click here.
Melanie Ave is a staff writer with LCMS Communications.
Posted May 1, 2014 / Updated May 2, 2014