Three LCMS-related ministries were among six recipients of Joshua Grants from Wheat Ridge Ministries, Itasca, Ill.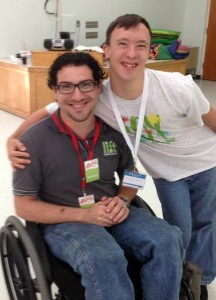 The LCMS Recognized Service Organization announced the six grants, totaling $26,375, in an April 3 news release.
Joshua Grants are one-year matching grants in the $1,000-$5,000 range. They are given to Lutheran congregations, organizations and agencies committed to launching new ministries of "health and hope" in their communities. The congregation or organization requesting funding must contribute matching funds equal to 50 percent of the Wheat Ridge grant award.
The three LCMS-related ministries receiving grants are:
Boost Activity Night for Families with Disabilities, St. Paul Lutheran Church, Lakeland, Fla. ($5,000) — This program provides a once-a-month activity night for families affected by any type of disability. Each night includes a fellowship meal, a structured activity and worship. Boost Activity Nights aim to increase awareness of disabilities, allow more opportunities for people with disabilities to participate in activities alongside those with no disabilities, and provide an opportunity for families with disabilities to worship together in a comfortable and safe environment.
Safe Haven After-School Program for Middle School Students at St. John Lutheran Church, Darien, Ill. ($5,000) — This program reaches out to middle school youth with the goal of enriching the children's physical, spiritual and academic growth and well-being. It includes tutoring, mentoring, exercise and nutrition education. The ministry aims to aid in building productive, motivated, Christ-centered youth into young adults using their God-given talents and gifts for the Lord's purposes, according to the Wheat Ridge news release.
Support for Returning Soldiers and their Families, Catalina Lutheran Church, Tucson, Ariz. ($5,000) — Catalina Lutheran Church's Operation Barnabas chapter is working with other local organizations to help military families and soldiers returning from deployment with support for food, clothing, utilities, rent, transportation and health expenses. The chapter gives special consideration to female veterans because of their unique situations.
Wheat Ridge Ministries provides funding and support for starting new health-related ministries. Its Joshua Grants are awarded quarterly. The next grant application deadline is May 31, with grants awarded in July.
For more information about Wheat Ridge's Joshua Grants or its other grant programs, visit wheatridge.org/grants.
Posted April 8, 2014