More than 400 people concentrated on being affirmed, connected, equipped and enriched in their vocations of serving youth during the Synod's 2015 National Lutheran Youth Workers Conference (NATIONAL15) July 12-15 in New Orleans.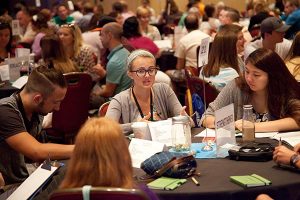 The conference theme, "Standing," was based on 1 Peter 5:10: "And after you have suffered a little while, the God of all grace, who has called you to his eternal glory in Christ, will himself restore, confirm, strengthen and establish you."
"At NATIONAL15, we celebrated joyous times and our life together, learned from one another and prepared to be encouragers during difficult times," said the Rev. Mark Kiessling, interim director of LCMS Youth Ministry, which sponsored and hosted the conference. "We give thanks for young people in our congregations and the many people in our church body who care for young people and serve them in different vocations."
Focusing on the words "restore," "confirm," "strengthen" and "establish," four conference plenary sessions unpacked the theme and the focus sub-themes.
Paula Isakson, founder of Faith Family Reunion, spoke on being restored, drawing from her personal experience as a prodigal youth. Isakson emphasized that the commitment of faithful parents played a major role in her life as the Holy Spirit drew her back to faith. She encouraged youth workers to continue to reach out and love young people even when they seem lost or disinterested.
A statement on its webside describes Faith Family Reunion as "a resource for families reuniting in faith."
The Rev. Dr. Tony Cook, associate professor of practical theology at Concordia Seminary, St. Louis, tackled "Confirmed." He addressed teaching the faith and how to communicate in a post-Christian culture.
"Generous theology doesn't expect the world to act like the church but nevertheless doesn't give up on attempting to get a hearing for Jesus Christ and the Gospel," Cook said.
Brad Griffin, associate director of Fuller Youth Institute in Pasadena, Calif., led participants through the sub-theme of "Strengthened," speaking on the importance of surrounding youth with multiple adults to strengthen faith formation.
Griffin highlighted the benefit of intergenerational worship and ministry settings. Based on Fuller's ongoing research in youth ministry, Griffin said, "Young people who can identify an adult in their church outside of youth ministry tend to stick with the faith. … As youth workers, our only role isn't just opening the Bible to young people but also to inspire other people in the community to play their role in the lives of our young people.
The Rev. Jeffrey Meinz, director of family ministry at Holy Cross Lutheran Church, Colorado Springs, Colo., and Leah Abel, director of Christian education at Our Father Lutheran Church in Centennial, Colo., served as emcees for the event and facilitated the final discussion on "Established" — exploring how to take home and apply what was learned.
The Rev. Ryan Peterson, campus pastor at Concordia University in Ann Arbor, Mich., led participants in four Bible studies. In the closing plenary, Peterson summarized the conference theme and key ideas by saying,
"When we lean on Christ, we are standing in Christ. When we rest in Christ, we are standing in Christ. When we suffer in Christ, we are standing in Christ. When we are serving in Christ, we are standing in Christ."
Also taking part in the conference were 19 young people who participated in a special youth track. Led by the Lutheran Youth Fellowship (LYF) executive board, the youth track used the 2015 LYF "Teens Stand Strong" training curriculum designed by the Rev. Dr. Joel Biermann, professor of Systematic Theology at Concordia Seminary, St. Louis. Youth were encouraged to "stand strong" in the faith for the good of others.
"I really loved working with the youth because they're so encouraging to me," said Katie Krause of the LYF executive board. "I get to see them grow in such a short amount of time, and then I get to see them go back to their congregations and be leaders themselves."
LCMS Servant Events and Thrivent Financial partnered with conference participants to assemble 200 backpacks filled with school supplies to be distributed in the New Orleans community by LINC New Orleans.
Conference participants also had numerous opportunities to learn more about the 2016 LCMS Youth Gathering, set for July 16-20 in New Orleans.
The next National Lutheran Youth Workers Conference is being planned for 2017.
Posted July 21, 2015