By Roger Drinnon
In a second undercover video released July 21 by the pro-life Center for Medical Progress (CMP), a senior Planned Parenthood official purportedly negotiates transactions of baby body parts referred to as "specimens" and "intact tissue." At the end of the video, she jokes, "I want a Lamborghini."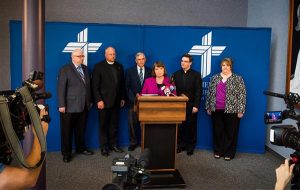 "The Planned Parenthood Federation of America is the nation's largest abortion chain, killing more than 300,000 unborn children every year, almost one-third of all abortions performed," said National Right to Life Committee President Carol Tobias, after reviewing the latest video. "It should be no surprise that the callous business of killing these innocent little human beings would extend to the disposal of their body parts for money."
Tobias also is a member of the LCMS Sanctity of Life Committee that met at the Synod's International Center in St. Louis July 16-17. Committee members held a July 16 press conference in the wake of CMP's first video release, which has since been authenticated. Cecile Richards, president of Planned Parenthood Federation of America, issued an apology July 16 for the tone her staff member used in that video, but then went on to deny that Planned Parenthood sells baby parts for profit.
View video footage of the press conference  or listen to full audio of the press conference, courtesy of KFUO Radio.
Not long after the first video surfaced, the Rev. Bart Day, executive director of the LCMS Office of National Mission, issued a statement on behalf of the LCMS denouncing the comments made by the Planned Parenthood staff member in the video.
In light of both videos, Tobias urges LCMS Lutherans and the general public to voice a stronger pro-life position in the public square.
"After 43 years of abortion on demand, too many pro-life people have become numbed to the daily carnage and apathetic to the need for action," said Tobias. "These little ones, made in God's image, need all of us to be their voices."
For information on LCMS Life Ministry, go to lcms.org/life.
Readers also may access:
Roger Drinnon (roger.drinnon@lcms.org) is manager of Editorial Services for LCMS Communications.
Posted July 21, 2015 / Updated July 22, 2015 and July 23, 2015