(Rated: 14A [Canada] and R [MPAA] for language throughout, some sexual content and brief violence; directed by Alejandro González Iñárritu; stars Michael Keaton, Zach Galifianakis, Edward Norton, Emma Stone, Naomi Watts, Andrea Riseborough, Amy Ryan; run time: 119 minutes.)
Ego, front and center
By Ted Giese
Set against a Broadway adaptation of Raymond Carver's "What We Talk about When We Talk about Love," "Birdman or (The Unexpected Virtue of Ignorance)" is the story of a fading Hollywood actor, Riggan Thomson (Michael Keaton), fighting to regain relevance in a world that thinks he's a joke. Earlier in his career people loved him as the superhero character Birdman, but those days are gone.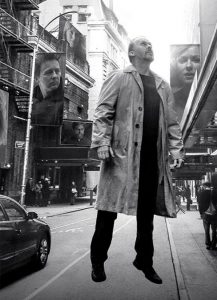 The film is predominantly about Riggan, who is writing, directing and starring in the Broadway adaptation of Carver's work as he struggles with depression and psychoses. His psychotic depression rears its head early in the film as viewers see and hear his auditory and visual hallucinations. His visual hallucinations make him believe he can levitate and perform feats of telekinesis, but he keeps all this to himself. He likewise keeps to himself his auditory hallucinations, the cajoling and antagonistic voice of his alter ego, Birdman.
In the midst of his personal psychological troubles, Riggan juggles tenuous relationships with a girlfriend, Laura (Andrea Riseborough); his ex-wife, Sylvia (Amy Ryan); and his daughter, Sam (Emma Stone), who serves as his publicist and who recently had been in rehab for drug addictions. Added to this is the introduction of Mike (Edward Norton), a last-minute addition to the stage-play cast who, following an accident in rehearsal, is brought in to fill a key role in the play before it officially opens on Broadway. Mike, the boyfriend of Lesley (Naomi Watts), another actor in the play, is essentially Riggan's external foil.
On one level the film is about Riggan's internal struggle with his ego, aggravated by his psychotic depression and his external struggles with ego, aggravated by his relationships with his family and fellow actors.
True technical achievements
While the film is crass and self-indulgent, it is also beautiful to watch. Most of it is shot giving the illusion of one long, continuous scene without many obvious cuts. These long stretches provide viewers with significant stretches of uninterrupted acting. Viewers simply follow the camera from scene to scene.
This style provides two things: first, a kind of "god's eye" view of the unfolding story, and second, an experience that approximates attending a live theatrical performance. Achieving this effect is the work of Emmanuel Lubezki, who won the 2014 Oscar for Best Achievement in Cinematography for the film "Gravity" and who won the same Oscar this year for "Birdman."
The style draws viewers into both the world of the stage and Riggan's complicated life. The 2015 Oscar-winning director of "Birdman," Alejandro González Iñárritu, seems to want viewers to set aside the fact that they are watching a movie and wholeheartedly embrace the film's subject matter. Unfortunately, that subject matter eventually goes to a very dark place as it deals more and more with Riggan's psychotic depression in what might best be characterized as an unhelpful way.
Significant spoilers ahead
Iñárritu ends up blurring the line between realism and fantasy by strongly suggesting that Riggan's ever-increasing psychotic hallucinations are not really hallucinations. The theme of suicide gradually emerges as the film reaches its conclusion, and repeated situations in which suicide is attempted do not end in the central character's death but rather in his narrow escapes from death.
The first of these narrow escapes might well be chalked up to his psychotic hallucinations. The last, fueled by manic ego, is witnessed by Riggan's daughter, Sam, and leaves the audience to contemplate Riggan's ultimate fate. This may well serve the story's investigation of ego; however, it doesn't serve the general public as society grapples with the realities of mental illness.
Mental illness as plot device
Hollywood has a long history of using mental illness as a plot device, and the Academy has often rewarded these films. Consider Milos Forman's "One Flew Over the Cuckoo's Nest" (1977), which won five Oscars, and Ron Howard's "A Beautiful Mind" (2001), which won four. Jennifer Lawrence won the Oscar for "Best Performance by an Actress in a Leading Role" for "Silver Linings Playbook" (2012), which romanticized her character's borderline personality disorder. In the same category the following year, Cate Blanchett won for her much more nuanced and realistic portrayal of a woman with bipolar disorder in Woody Allen's "Blue Jasmine."
Michael Keaton's performance in "Birdman," which garnered him the 2014 Golden Globe for "Best Performance by an Actor in a Motion Picture — Comedy or Musical," is truly great. However, the end result of the unfolding story is the concerning element of the film. Mental illness is a very serious problem, and suicide is likewise very serious. This film is not recommended for people sensitive to these health issues. If the film didn't delve so often into a kind of hyper-realism in its storytelling, this may not be a big issue. On the other hand, the tension between what is real and what is not provides some of the film's most palpable drama. It is plain that without Riggan's auditory and visual hallucinations the film would become much less flashy.
In "Birdman," Iñárritu does what Hollywood generally does with these stories: He portrays Riggan's mental disorders not chiefly as an illness and health issue but rather as a mysteriously seductive and dangerously glamorous source of cinematic drama.
Winning four 2015 Oscars, including "Best Picture," provides every indication that "Birdman" is a well-made film, and it is. But being well-made doesn't excuse its glamorization of psychotic depression. As fascinating as "Birdman" is to watch with its compelling performances, story and visual style, upon further reflection it leaves much to be desired in the area of social commentary. This may sound overly critical, but "Birdman" both invites and repels criticism by providing an internal foil to external criticism in the form of a prop that pops up rather frequently in the film.
In Riggan's dressing room is a small piece of paper affixed to the mirror that reads, "The thing is the thing … not what is said about the thing." This kind of pretentious quote fits well with Riggan's character; however, it should not dissuade viewers from forming a personal opinion about the film.
Curiously, the movie vacillates between encouraging viewers to form an opinion and telling them that their opinion doesn't matter — that any opinion is really just the consequence of personal ego. And there it is — ego all over again. Viewers must concede that ego is a problem, not just for the washed-up actor Riggan, but for all people, because everyone struggles with ego. When the credits roll, the audience is left with a kind of calculated, mundane sense of betrayal as ego throws mental illness under the bus. Regardless of what "Birdman" says about ego, it is perfectly OK for viewers to hold an opinion about what this means to people struggling with mental illness and those who support them in their struggle.
Christian viewers who find the portrayal of mental illness and suicide in "Birdman" troubling may well want to meditate on St. Paul's advice from Romans 8, where he says, "I am sure that neither death nor life, nor angels nor rulers, nor things present nor things to come, nor powers, nor height nor depth, nor anything else in all creation, will be able to separate us from the love of God in Christ Jesus our Lord" (Verses 38-39).
The Christian baptized and hidden away in Jesus has nothing to fear — not failure or irrelevance or even mental-health concerns. They are in Jesus' hands and will not have to rely on the quality of their ego or their personal achievements to gain relevance or acceptance in the eyes of God.
The Rev. Ted Giese is associate pastor of Mount Olive Lutheran Church, Regina, Saskatchewan, Canada; a contributor to "Reformation Rush Hour" on KFUO-AM Radio, The Canadian Lutheran and Reporter; and movie reviewer for the "Issues, Etc." radio program. Follow Pastor Giese on Twitter: @RevTedGiese.
Posted Feb. 24, 2015