A team of undergraduate students at Concordia University Chicago in River Forest, Ill., took first-place honors in this year's Chicago IEEEXtreme 24-Hour Programming Competition.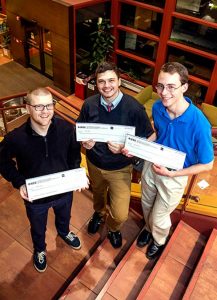 The students' win in the Chicago Section of the Institute of Electrical and Electronics Engineers (IEEE) also placed them 11th overall in IEEE Region 4, an area of 10 states in the greater Midwest.
The competition is an annual global challenge where students at the undergraduate, master's and doctoral levels compete together in a 24-hour period to solve a set of programming problems.
Awards were presented to the winning team in a ceremony at Concordia's Christopher Center on Dec. 4, where Vickie Peters, chair of the IEEE Chicago Section, addressed the crowd.
"When I told my dad in the mid- to late-1970s that I wanted to be a computer scientist, he said 'Oh, computers are just a fad,' " said Peters, who spoke on her career background and the importance of computer-science programs in academia.
"My career in software engineering has taught me discipline and how to listen," she said. "With globalization today, software engineering projects sometimes require that teams from all over the world collaborate. Being able to work together and listen to others is important."
The winning team was made up of Concordia Chicago students Andrew Menke, Joseph Bayer and Nicholas Farley — each received a scholarship check for $300. The group was encouraged to participate in the competition by faculty mentor Dr. Victor Govindaswamy, associate professor of computer science at Concordia Chicago.
Farley, a junior and captain of the team, said he was honored to represent the university as well as IEEE. "I especially want to thank Dr. Govindaswamy, who always tells us that the greatest people are those who work hard, are focused and never give up," he said.
IEEE is the world's largest association of technical professionals, with more than 400,000 members worldwide.
Concordia University Chicago offers a Bachelor of Arts in Computer Information Systems as well as a Bachelor of Arts and Bachelor of Science in Computer Science. To learn more about these degree programs, visit CUChicago.edu.
Posted Dec. 17, 2015