The Concordia University, Irvine, Calif., community is mourning the loss of alumnus Tyler Stewart, 24, a Flagstaff, Ariz., police officer killed in the line of duty Dec. 27. Stewart was a 2012 graduate of Concordia's Athletic Training program.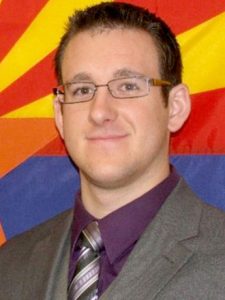 The Orange County Register reported that Stewart was shot multiple times at close range while responding to a domestic-violence incident. The suspect pulled a gun when Stewart asked if he could check him for weapons. The suspect later fatally shot himself.
Concordia alumni and professors held a candlelight vigil at the university's chapel Jan. 2, the day of Stewart's funeral in Arizona.
"Tyler Stewart, who we all called Stewy, was a great student and peer with his classmates," said Dr. Jennifer Rizzo, Athletic Training Program Clinical Education coordinator and associate professor of Exercise and Sport Science at Concordia, in an email to Reporter. "He was the class clown, the one who always brightened a room."
"He left Concordia and went into the world as a police officer serving others with a gentle and kind heart. I will always remember all the shenanigans he got into, and I will forever miss him," she wrote.
According to news reports, Stewart had been with the Flagstaff police department about a year.
During Stewart's Arizona funeral, hundreds of mourners gathered along the procession route.
"I just want to express to you what a kind and professional young man officer Stewart was," said Flagstaff Police Chief Kevin Treadway, according to Arizona Public Radio. "I was very impressed with him, and I'm greatly saddened that he lost his life, especially in this horrid way. He did a very good thing by making us feel safe and looked after on Saturday [Dec. 27], and his family should feel proud that he was out doing such a good job."
Posted Jan. 7, 2015 / Updated Jan. 8, 2015