Concordia Publishing House (CPH) provided backpacks filled with school supplies to 850 children at its 20th annual "Operation F.U.N." (For a United Neighborhood) event on Aug. 6.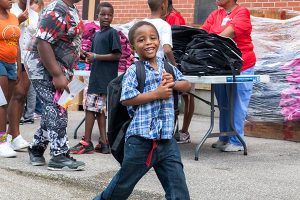 Each year, the publisher invites families from its South St. Louis neighborhood to its parking lot for the free back-to-school giveaway and a hot-dog lunch.
"We are committed to our community," said CPH President and CEO Dr. Bruce G. Kintz. "Operation F.U.N. is a terrific opportunity to share the Gospel while we help our neighbors."
Guests began lining up for Operation F.U.N. about three hours before its 3 p.m. start. In all, some 1,300 people attended this year's community-outreach event.
School supplies for the backpacks were donated by CPH employees, many of whom volunteered at Operation F.U.N.
Four "K-9 Comfort Dogs" from Lutheran Church Charities — Noah, Jackson, Tabitha and Louie — were on hand to greet visitors, as were representatives of the St. Louis Police Department, St. Louis Public Library, St. Louis Health Department, Safe Kids St. Louis and Educational Enterprises.
Also contributing to this year's Operation F.U.N. by donating bags were the Lutheran Women's Missionary League and the Clear Bag Store.
Posted Aug. 11, 2015 / Updated Aug. 14, 2015