By Roger Drinnon
Everyone can do something to uphold the sanctity of human life — everyone — and opportunities abound to do so.
LCMS laity and clergy alike have ongoing opportunities to defend the sanctity of life in support of the Synod's Life Ministry. These opportunities are especially relevant in the wake of the now-viral Center for Medical Progress (CMP) investigative videos purportedly showing Planned Parenthood executives and staff members discussing the harvesting of organs from aborted babies.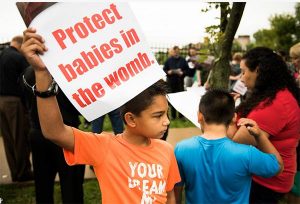 As a partner in the Synod's Life Ministry, Lutherans For Life (LFL), an LCMS Recognized Service Organization, encourages all Lutherans to be active, as LFL equips them to be "Gospel-motivated voices for life."
"We help [LCMS] congregations become actively life-focused on issues like abortion," said Lori Trinche, mission and ministry coordinator with LFL. "Through equipping, we become a unified voice for life — speaking the truth in love and witnessing that love in action."
Trinche said LFL assists LCMS congregations in establishing Life Teams that help raise awareness and become trusted resources to congregations and communities. Those teams, in turn, can reach out to assist local crisis-pregnancy centers and maternity homes, or rally to start new ones where needs are identified and not yet met. She referenced the Life Team from Trinity Evangelical Lutheran Church in Creston, Iowa — a team that helped the local community convert a former Planned Parenthood clinic to a pro-life women's health resource center (see related story, "Former Iowa webcam-abortion clinic now pro-life health center").
"The team in Creston exemplifies [the Life Team concept]. They reached outside of their comfort zone and were faithful in their efforts. They faced multiple struggles along the way to help open the clinic and will likely continue to face struggles," said Trinche. "Our prayer is that we can continue to equip them and encourage them with practical resources to meet any challenge and continue to cover them in prayer."
Trinche said amid revelations of Planned Parenthood practices made public by the CMP's investigative videos, several opportunities are available to rally over the remainder of the year — and likely many more to come.
"We can pray at home, in our churches, and at abortion clinics, rally in numbers, write letters to our leaders at the local and national level … and become active in the public square as leaders," she said.
"We have the most powerful message in the world," said LFL Executive Director Rev. Dr. James Lamb after a July 16 pro-life press conference at the LCMS International Center in
St. Louis held following the release of the first CMP video. "And I pray that our churches will use this as an opportunity … to make dealing with these issues a part of their ongoing Gospel ministry."
Trinche said that one way to help those suffering involves LFL's Word of Hope ministry for people who seek healing from a past abortion experience. For more about that ministry, go to lutheransforlife.org/about/word-of-hope/online.
"In continuing to focus on our Gospel-motivated mission, we want to be sure to provide help and healing for men and women in that situation," she said.
Trinche also encourages LCMS congregations to work with Life Teams and local LFL chapters as the new school year begins to help get the word out about Owen's Mission (lutheransforlife.org/owens-mission/) and the free LCMS Life Ministry Ultrasound curriculum (lcms.org/life), which brings ultrasound technology into middle- and high-school classrooms to highlight the sanctity of human life. Owen's Mission is a special project of LFL partially funded by a grant from LCMS Life Ministry with the goal of presenting a set of fetal models to every Lutheran elementary and high school in the country (1,078 schools with 139,000 students).
"[Congregations can] work with our teams and chapters to get these materials into every Lutheran [elementary] and high school in the U.S., in order to raise awareness and help students and teachers to be Gospel-motivated voices for life," she said.
Trinche emphasized all LCMS Lutherans can help in some way.
"Anyone can do something to witness to the sanctity of human life," she said. "Every life is precious, and God has uniquely created each of us with purpose."
Upcoming life-ministry events
Sept. 11 — Y4Life youth servant event, Redeemer Lutheran Church, Sanford, Fla. Laura Davis, Y4Life director, will help equip the youth to be Gospel-motivated voices For Life! Email Davis for help with life-affirming youth servant events nationwide: ldavis@lutheransforlife.org.
Sept. 12 — National Day of Remembrance for Aborted Children — commemoration services planned at gravesites and marker sites nationwide. For more information, go to: abortionmemorials.com.
Sept. 23-Nov. 1 — 40 Days for Life prayer vigils at abortion clinics nationwide. If there is not a vigil planned at the abortion clinic near you, there are guided resources on how to start one. For more information, go to: 40daysforlife.com.
Sept. 30 — Sample packs of Lutherans For Life "Life Sunday" materials will be mailed to pastors nationwide. These materials can be used anytime, but they especially help pastors prepare to speak out for life on Life Sunday or during Life Month in January.
Oct. 4 — National Life Chain: 90 minutes of sidewalk-based prayer at locations nationwide. For more information, visit: nationallifechain.org.
Oct. 30-31 — LFL National Conference at the Creation Museum in Petersburg, Ky. Learn how to be equipped to be Gospel-motivated voices For Life! Go to lutheransforlife.org/conference.
Nov. 7 — Infertility Ethics Symposium, Concordia Theological Seminary, Fort Wayne, Ind. For more information, visit: calendar.lcms.org/event/infertility-ethics-symposium.     
Nov. 8 — Orphan Sunday, a day for churches to reach out and care for orphans in their community. For more information, visit: orphansunday.org.
Jan. 22-23 — Join LCMS Life Ministry at the 2016 March for Life:
East Coast — A Divine Service will be held Jan. 22 at Immanuel Lutheran Church, 1801 Russell Road, Alexandria, Va., at 9 a.m. Participants will then ride the metro to the Washington, D.C., march. For more information, contact: tracy.quaethem@lcms.org.
West Coast — Join other LCMS Lutherans at the West Coast Walk for Life in San Francisco on Saturday, Jan. 23. Participants will gather around the white-and-purple LCMS Life Ministry banner at Civic Center Plaza beginning at 11 a.m., with the rally starting at 12:30 p.m. After the rally concludes at 1:30 p.m., attendees will walk the route together to Justin Herman Plaza. For questions, email: tracy.quaethem@lcms.org.
Roger Drinnon (roger.drinnon@lcms.org) is manager of Editorial Services for LCMS Communications.
Posted Sept. 2, 2015