The Rev. Dr. Jamison J. Hardy of Finleyville, Pa., was elected — on the second ballot — to his first term as president of the nongeographical LCMS English District at the district's 55th convention, June 17-20 at Concordia University, Ann Arbor, Mich.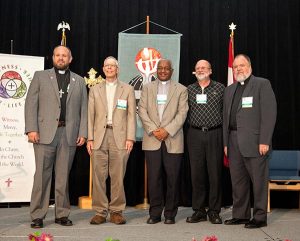 Hardy, 42, has served as pastor of Peace Lutheran Church, McMurray, Pa., since 2008, and was a vice-president for the district's Eastern Region since 2009. He succeeds the Rev. Dr. David P. Stechholz, who had served the maximum three terms and was not eligible for re-election.
Also elected to their first full terms were:
Rev. Ben Eder, pastor of Pilgrim Evangelical Lutheran Church, Kenmore, N.Y., first vice-president, Eastern Region.
Rev. Zerit Yohannes, pastor of Christ Lutheran Church, Lansing, Mich., second vice-president, Lake Erie Region.
Rev. Todd Arnold, pastor of West Portal Lutheran Church, San Francisco, third vice-president, Western Region.
Rev. Robert A. Rogers, pastor of Trinity Lutheran Church, Villa Park, Ill., fourth vice-president, Midwest Region. (Rogers, appointed to the position in 2014, served a partial term.)
Hardy's installation as district president/bishop is planned for Sept. 6 at Peace, McMurray. The other elected officers were installed during the convention.
Under the theme "Igniting Christ's Church in Mission," from Acts 1:8, delegates approved four resolutions related to missions and evangelization. They call for:
encouraging each of the district's circuits to focus on planting a new congregation within the next triennium.
encouraging district congregations to promote personal witnessing and outreach.
adopting a Synodwide North American evangelism effort.
memorializing the Synod to identify resources for reaching out to Muslims.
Other adopted resolutions ask the Synod's 2016 national convention to:
adopt a four-year cycle of conventions and terms of office.
re-establish an appeals process to the LCMS Praesidium in cases of ecclesiastical supervision.
establish a legal fund for church workers and church entities who come under legal attack for their "witness to God's truth."
assign to the seminary faculties the task of evaluating the theological implications of cremation.
Delegates adopted two district-related resolutions:
reaffirming the place of Canadian congregations within the English District.
changing bylaws to extend term limits for district officers from three to four.
Delegates also called on LCMS seminaries to:
require that pastoral-ministry students take at least two teacher-training classes prior to graduation.
"reaffirm the biblical qualifications for pastors by forbidding admission to seminary, and the certification, placement, calling and ordination of candidates" who are "divorced and remarried, while the first wife is still living," in accordance with the Scriptural understanding of marriage as being a lifelong union.
Highlights at the English District convention included joyful Divine Services held in the Concordia University Chapel; recognition and thanks for the service of retiring Bishop David Stechholz; a theological convocation on "The Church's Mission in an Age of Moral Collapse" facilitated by the Rev. Dr. Joel Lehenbauer, executive director of the LCMS Commission on Theology and Church Relations; and presentations by LCMS President Rev. Dr. Matthew C. Harrison and the Rev. Ted Krey, regional director for Latin America with the LCMS Office of International Mission.
Posted June 23, 2015 / Updated June 24, 2015