Delegates to the LCMS Missouri District's 19th convention — June 14-16 in Springfield, Mo. — elected on the first ballot the Rev. Dr. R. Lee Hagan of Concordia, Mo., to his first term as district president.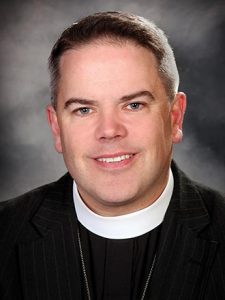 Hagan, senior pastor of St. Paul's Lutheran Church in Concordia since 2002, has been the district's first vice-president since 2012.
As president, Hagan succeeds the Rev. Dr. Ray Mirly, who is retiring after serving three three-year terms.
Also elected were:
Rev. William Marler, senior pastor of Trinity Lutheran Church, Springfield, as first vice-president. He previously was a third and fourth vice-president of the district.
Rev. Dr. Ron Rall, senior pastor of Timothy Lutheran Church, St. Louis, second vice-president, after serving as fourth vice-president.
Rev. Alan Wollenburg, pastor of Concordia Lutheran Church, Sikeston, Mo., re-elected third vice-president.
Rev. Brian Thieme, associate pastor of Trinity Lutheran Church, Columbia, Mo., newly elected as fourth vice-president.
Hagan's installation is set for July 15 at St. Paul's Lutheran Church, Des Peres, Mo. Others elected will be installed July 16 prior to the district board of directors meeting in St. Louis.
Under the convention theme "Put Out Into the Deep," based on Luke 5:1-11, delegates adopted resolutions to:
memorialize the 2016 Synod convention to reaffirm the current LCMS Bylaws governing election and responsibilities of the boards of regents of the Concordia University System colleges and universities.
prorate convention assessments so that congregations can include those assessments in their budgets for three years.
create a Missouri District task force to promote and preserve Lutheran-school education.
recognize official conferences of the district, to include setting the cycle for those conferences.
change the procedures for planning those district conferences, as well as their composition.
give thanks to Christ for Mirly's service as district president.
Also at the convention, Synod President Rev. Dr. Matthew C. Harrison led a Bible study, LCMS First Vice-President Rev. Dr. Herbert C. Mueller Jr. preached at the opening worship and LCMS Michigan District President Rev. Dr. David P.E. Maier served as essayist.
(Please note: An earlier version of this story incorrectly reported that LCMS Missouri District President-Elect Rev. Dr. R. Lee Hagan was elected on the third ballot. He was elected on the first ballot. — Editor)
Posted June 23, 2015 / Updated June 24, 2015