The Rev. John Fale of St. Louis began serving as executive director of the LCMS Office of International Mission (OIM) on May 20.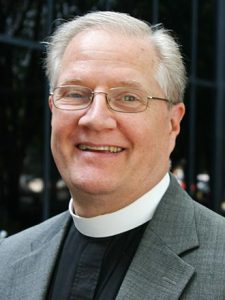 In keeping with Synod Bylaw 3.3.1.3(e), LCMS President Rev. Dr. Matthew C. Harrison announced the appointment after receiving unanimous concurrence from the Synod's Board for International Mission (BIM).
"I am honored to serve our Lord in this capacity, caring for our missionaries in the field and for our staff in the national office, all who work tirelessly to serve the Gospel and one another," said Fale. "I am blessed that the [OIM] already has a well-defined strategy and a very capable staff at every level to carry out that strategy."
Fale assumes the role at a critical time in the Synod's international work — with growing numbers of missionaries, growing needs of international partner churches and increasing persecution of Christians around the globe.
"As our missionary numbers grow, persecution of Christians around the world is also growing. Partner churches face unique challenges and opportunities [ranging] from internal political problems to expectations here at home," said BIM Chairman Rev. Bernhard Seter. "Pastor Fale's understanding of the human condition, his ability to distinguish between Law and Gospel and his enduring faith in Christ as the One in whom all things fit together will serve him well, as he serves the church."
The Rev. Randall Golter previously served as OIM executive director, then moved to the LCMS Office of the President as special assistant to the president last October. Golter now leads the Synod in coordinating and planning the celebration of the 500th anniversary of the Reformation in 2017.
After joining the staff of the International Center in 2003, Fale served as both director and associate executive director with LCMS World Relief and Human Care and later as the interim executive director of the OIM. Most recently, he served as associate executive director for Mercy Operations.
"I have been with him all around the world in different settings, and John has a unique ability to see where need and mercy meet and how to bring the Gospel to bear in disaster and in one-on-one human interactions," said Seter. "I was told by an Africa deaconess that when the preaching of the Gospel and acts of mercy and human care come together, the devil goes crazy. John was there and has had ample opportunity to see the truth of those words."
"As we continue to share with the LCMS at-large the work of Witness, Mercy and Life Together that we are engaged in collectively, I hope that we all understand and appreciate that we serve but one Lord, proclaim one Gospel and desire that all are saved and come to the knowledge of the truth that God has given us forgiveness and life through Jesus," said Fale. "I need desperately the prayers of my family, staff and the entire LCMS — that I lead with humility, a pastoral heart, faithfulness to the Word and wisdom. For unless the Lord builds the house, those who labor do so in vain."
Posted May 22, 2015/Updated Oct. 10, 2022