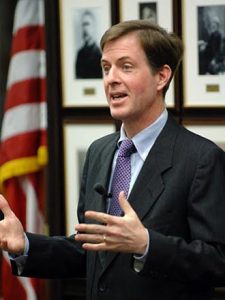 "Faith in the Halls of Power: Family, Marriage, Human Life and Religious Liberty in 21st Century America" is the topic of a presentation by Tim Goeglein Oct. 8 at 7 p.m. at Concordia Theological Seminary, Fort Wayne, Ind.
A lifelong member of The Lutheran Church—Missouri Synod, Goeglein served as a special assistant to President George W. Bush, press secretary to U.S. Sen. Dan Coats and is now vice-president for External Relations for Focus on the Family in Washington, D.C.
Goeglein also is the author of The Man in the Middle: Faith and Politics in the George W. Bush Era.
The event is free and open to the public.
For more information, contact the seminary at SeminaryRelations@ctsfw.edu or 260-452-2250.
Posted Sept. 28, 2015