Registration is open for the V Convención Nacional Hispana Luterana (Spanish for "Fifth National Hispanic Lutheran Convention"), set for July 28-31 at the Grand Hyatt Hotel in Tampa, Fla.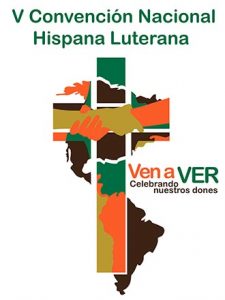 Meeting every three years, the convention will be bilingual — in Spanish and English.
This year's convention theme is ¡Ven a Ver!: Celebrando Nuestros Dones ( "Come and See!: Celebrating Our Gifts"), based on John 1:46. Its primary sponsor is the LCMS Florida-Georgia District. Other sponsors include the LCMS Pacific Southwest, Texas, Rocky Mountain and Michigan Districts; the LCMS Office of National Mission — Hispanic Ministry; and several other Synod agencies and congregations.
For a printable mail-in convention registration form and other details (including a schedule), click here and then on "View schedule and register today."
Convention registration fees are $100 for adult church workers (including lay leaders), $50 for their spouses and $25 for children or teens. The fee for seminarians, vicars and deaconess interns is $25. A special room rate of $99, plus tax, applies for reservations made at the Hyatt by June 29. Information for reserving rooms by phone or online also is available from the above link.
The convention's president, the Rev. Dr. Leopoldo Sánchez, told Reporter that its main objective is "to offer Hispanic workers in our districts — and others who work in Hispanic ministries with them — a much-needed time of learning, fellowship, empowerment and refreshment so that they can return to their ministries re-energized and with a renewed commitment to continue their challenging work."
Sánchez is director of the Center for Hispanic Studies in the Werner R.H. and Elizabeth Ringger Krause Chair for Hispanic Ministries at Concordia Seminary, St. Louis, where he also is an associate professor of Systematic Theology.
The Rev. Dr. Carlos Hernandez, director of LCMS Church and Community Engagement with the Office of National Mission (which includes the strategic development of Hispanic ministry), agrees with Sánchez about the benefits of the convention for participants.
"The convention is where they can benefit greatly from associations with each other — through encouragement, prayer, sharing and learning about resources available to them," said Hernandez, who added that many participants make plans during the convention "to get together regionally between conventions for follow-up and ongoing support."
The convention begins with a 4 p.m. opening service on July 28, followed by a welcome dinner and plenary address. It ends the morning of July 31 with a devotion and business session, followed by special-group meetings.
LCMS President Rev. Dr. Matthew C. Harrison is scheduled to preach at a July 30 closing service.
Scheduled plenary convention speakers are:
Rev. Dr. Giacomo Cassese, a Lutheran historian and author from Miami;
Rev. Adolfo Borges, associate pastor — Hispanic ministry at Prince of Peace Lutheran Church, Orlando, Fla.; and
Rev. Oscar Benavides, executive director of Lutheran Inter-City Network Coalition (LINC) North Texas, Carrollton, Texas.
Devotions will be led by various individuals in Lutheran Hispanic ministry. And the Rev. Benito Perez Lopez and Deaconess Jessie Perez — who serve at Hospital del Alma Lutheran Church, Leisure City, Fla., will lead a portion of the convention program and provide pastoral and diaconal care to convention delegates and families.
In addition, plenary sessions will include election of all convention officers for the next three years and consideration of resolutions concerning "the future direction of U.S. Hispanic ministries across the Synod," according to Sánchez.
Two sessions of scheduled workshops will address topics that include:
"Working with second- and third-generation Hispanics."
"Use of technology in the church."
"Resources for funding the Mission."
"Musical resources for Hispanic Lutheran worship."
"Planting Gospel Seeds while serving human needs — connecting with your community."
Special activities are being planned for children and youth throughout the convention.
Opportunities for touring the Tampa area will be available the afternoon of July 29.
Posted April 22, 2015