By Roger Drinnon
ST. LOUIS — The 500th anniversary of the Reformation in 2017 will be a year of outreach and celebration of the Gospel, as Synod leaders and partners make plans to hold forth the Gospel boldly.
Some 15 representatives of LCMS partner organizations, Synod officers and history experts came together to review anniversary outreach and celebration plans April 9 at the LCMS International Center here.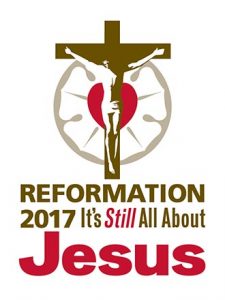 "There will be a moment when the world focuses on Luther and the Reformation," said LCMS President Rev. Dr. Matthew C. Harrison, referring to 2017. "We need to be ready for that moment to proclaim the truth in Christ."
A story in the April Reporter announced that worship opportunities, outreach grants, Web resources and even a Reformation documentary are some of the undertakings for the Synod and its partner organizations celebrating the 500th anniversary. Details on efforts highlighted in previous Reporter coverage can be found at reporter.lcms.org/2015/2017-reformation-celebration.
Meetings like the April 9 gathering allow LCMS partners to hear what others are doing, facilitate collaborative efforts and promote awareness of activities throughout the church to help congregations in their celebration planning.
The meeting was facilitated by the Rev. Randall Golter, who serves in the LCMS Office of the President as special assistant to the president. In this capacity, he is responsible for leading the Synod in coordinating and planning for the 2017 Reformation-anniversary celebration. Attendees included representatives from the Synod's Offices of National Mission and International Mission, both seminaries, Concordia Historical Institute, Concordia Publishing House, the Concordia University System, Concordia Plan Services, Lutheran Church Extension Fund, LCMS Foundation, the Lutheran Women's Missionary League and Lutheran Hour Ministries.
Discussions included how to provide resources to enable congregations to celebrate through local community outreach and education. Synod partners also shared plans for marking the anniversary, including special worship services, symposia, heritage events, publications and educational materials currently in the works.
A variety of free, downloadable resources also will be made available on a forthcoming, self-standing website, to include teaching resources for both adults and children. The educational materials will be ready as early as October 2015 and will be continually augmented through 2017.
In keeping with the celebration theme, "It's Still All About Jesus," Dr. Erik Herrmann, associate professor of Historical Theology and director of the Center for Reformation Research, Concordia Seminary, St. Louis, presented a paper titled "Reformation Remembered," to reflect on the fundamental reason for the Reformation.
"To put it succinctly, Luther's 95 Theses were written as a protest against bad pastoral practice," said Herrmann, citing his paper.
Herrmann went on to explain how Luther's theology is even more important today, noting how post-modernism has left many in a state of "disorientation, disillusionment and anxiety." His paper was applauded by meeting participants, as some echoed the relevance of the Reformation in today's society.
"Concordia Historical Institute [CHI] is excited to partner with other departments of the LCMS to provide a wide variety of resources for congregations reaching out with the Word of the Lord during the 2017 celebrations. It is truly a once-in-a-lifetime opportunity for us to share the Gospel," said the Rev. Dr. Daniel Harmelink, CHI executive director. "The Christ of the Scriptures and Sacraments Luther rediscovered at the time of the Reformation needs to be rediscovered by many today. LCMS congregations have a very real opportunity to make that happen."
Harrison said that despite post-modernity's potential impact on public interest, he remains confident that in the tradition of Luther, the 500th anniversary celebration will serve to deliver the true Gospel to those in need of hearing.
"We have an ecumenical task to hold forth free grace … delivered by faith — to hold forth the Gospel," he said.
Roger Drinnon (roger.drinnon@lcms.org) is manager of Editorial Services for LCMS Communications.
Posted April 22, 2015 / Updated April 24, 2015