The new issue of the Journal of Lutheran Mission —highlighting the 500th anniversary of the Lutheran Reformation in 2017 — is comprised of papers presented at the second International Conference on Confessional Leadership (ICCL) this past spring in Wittenberg, Germany.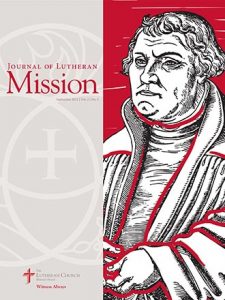 The articles mainly focus on the theme of the ICCL: "Celebrating the Reformation Rightly: Remembrance, Repentance, Rejoicing."
This September issue of the journal includes works from church leaders from several continents who unpack why the Reformation still matters to the Lutheran Church in their respective regions. Other topics range from explaining declines in American Lutheranism to discussing whether or not there is truly a cause for celebrating in 2017.
"A goal of the conference was to help prepare world Lutheranism for the celebration of the 500th anniversary of the Reformation in 2017. The papers presented in this journal are to contribute to that anniversary celebration," LCMS President Rev. Dr. Matthew C. Harrison notes in the journal's opening letter.
"The Lord has blessed us greatly. Confessional Lutheranism is here for this moment to be Lutheran and to take the confession of the Lutheran church into the world."
This issue and back issues of the Journal of Lutheran Mission are available for download at reporter.lcms.org/category/journal-of-lutheran-mission.
Also, readers are encouraged to "like" the Journal of Lutheran Mission on Facebook.
Posted Sept. 23, 2015