By Jeni Miller
"Through every phase of ministry for nearly 50 years, I think I never ceased being aware of God's phenomenal grace," says the Rev. Dr. Robert T. Kuhn, who resigned from his position as LCMS sixth vice-president in an Aug. 20 letter to Synod President Rev. Dr. Matthew C. Harrison. He cited "health reasons" for stepping aside.
Kuhn didn't just resign from the one position, however. For him, the decision closes a 47-year chapter in his life, when he also served the church at-large as parish pastor, president of the LCMS Central Illinois District, first vice-president of the LCMS and chairman of the LCMS Board of Directors. During his second term as first vice-president, Kuhn was president of the Synod for five months after the 2001 death of President Rev. Dr. A.L. Barry.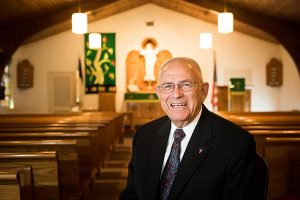 And through it all, he's remained thankful for the opportunity to serve.
"Maturity does not come only in age, but also through ministry," Kuhn reflected. "By the grace of God, that ministry for me has had great variety. … More decisions and experiences than can be remembered or listed, but each and all of them had a significant role in maturation. From a school boy in a small, rural grade school — afraid to speak in front of the class, to having the privilege of chairing one of the conventions of the Synod. What a journey!"
'Most rewarding' role: pastor
Considering all his past roles, Kuhn said the most rewarding was his vocation as a parish pastor. Ordained in 1963, he was first called to and installed at St. John's/Salem Lutheran Church, Bath/Chandlerville, Ill.
"For me, being a parish pastor was the most fulfilling and rewarding because I was working immediately and directly with the Church, God's people. I'm not saying that being involved with people in the Synod and district isn't Church, but I just mean the people in the pew, the congregations in the Synod, calling on shut-ins, celebrating 50 years of marriage with couples, seeing people in the hospital. Those were times when a heart just beats and you can't help but rejoice that God has given you the privilege of being a part of His Church and places you in a position of ministering to His people."
During his seven years in Bath and Chandlerville, Kuhn touched the lives of many that he served. He and his late wife, Judy, also formed a close, lifelong friendship with members Vernon and Sylvia Heye during their time at St. John's.
"When he was here at St. John's he was one of the most willing workers and brought himself down to the level of farming people, which he didn't know much about when he got here," said Vernon Heye. "But he always helped people when they needed help, and he had a way of meeting people and making them feel good about themselves.
"The thing that brought us the most together," Heye continued, occurred after the Kuhns' first son, Paul, was born.
The Kuhns "came over and Bob said to me, 'I've looked at you since Paul was born, and I see that you want children. If you do, I can help you.' Bob helped us go through Lutheran Child and Family Services to adopt a couple of boys. I especially just needed someone to encourage us, I was dragging my feet, and he said a few words to convince us to move forward. Within a year we had adopted a little boy. And then not too long after, another little boy. It turned our lives around."
After Kuhn accepted his next call to Geneseo, Ill., Heye recalls that in his last sermon, Kuhn said, " 'Oh little flock, you will remain strong.' " I struggled with that, that the Lord wanted him to go at that time. But we've kept in touch all these years. He's just been good to us, that's all."
In the 1970s and first half of the 1980s, Kuhn served parishes in Geneseo and Pleasant Plains, Ill., with a "break" in between as he worked as the assistant director of development at what is now Concordia University Chicago, in River Forest, Ill. From there, Kuhn was elected president of the LCMS Central Illinois District (CID), a position he would hold for a full decade (1985-95).
'Dearly loved' in CID
"He was dearly loved by the Central Illinois District," said CID President Emeritus Rev. Dr. David Bueltmann. "At the time of his election, the district had limitation of terms. However, he asked that the limitation be removed so he could continue, which the convention readily agreed to. He served for one more year, for a total of 10 years as district president. … Our district as well as our Synod has been truly blessed by His work among us."
Among those whose lives Kuhn has touched is Brenda Schreder, who first worked with him in 1998, as executive assistant to the Synod first vice-president. She remains in that post with current LCMS First Vice-President Rev. Dr. Herbert C. Mueller Jr.
Schreder said that when her 17-year-old son died in 1999, "Dr. Kuhn and Judy were so thoughtful and generous that when my birthday came along that year they gave us the keys to their condo in Bonita Springs [Fla.] to get away. They continued that until Dr. Kuhn retired in 2001. Dr. Kuhn ended his term with retirement because he promised his bride, Judy, he would.
Schreder added that when her husband died in 2004, "Dr. Kuhn was right there for me as a friend and a pastor.
"When Judy's dementia became worse he called me because she wanted to talk to me. … His love for Judy was most certainly 'till death do us part.'
"He is loved by so many and respected by all," Schreder said, adding that she knows his decision to retire "has been a tough decision for him. But like I told him, 'it's now time to take care of yourself, my friend.' "
Before and through his first vice-presidency, Kuhn also earned the admiration and respect of the Rev. Dr. Ken Schurb, who was an assistant to Barry from 1994 to 2001.
"Bob Kuhn is a servant," Schurb said. "When he was elected first vice president of the Synod in 1995, President Barry became ill. Sobered but undaunted, Bob Kuhn served. Five and a half years later, President Barry suddenly died. For a few months, Vice-President Kuhn had to move into the president's chair. He never wanted that office, but he served. Then in 2001, when he 'retired,' the Synod still wanted him for its Board of Directors and later as a regional vice-president. Bob had other things to do, but again and in a most Christ-like way, he served."
In an April 2001 Reporter article about Kuhn suddenly becoming president after Barry's death, Kuhn acknowledged that he was a "short termer," saying, "In five months, you can't lay plans, let alone fulfill them." He chose to focus on completing the projects and emphases that Barry had initiated, and to send that message loud and clear he did not move into Barry's fourth-floor office in the International Center but rather stayed in his much smaller office.
Understanding forgiveness
Today, reflecting on his brief time as Synod president, Kuhn said, "Among the most challenging roles I've had, besides parish pastor, was Synod president. You see, I was trained to be a parish pastor at the seminary, but I was never trained to be Synod president. It's just something you learn and grow into. You make mistakes and think, 'Oh, can't do that again.' … Probably as in no other ministry, when you're Synod president, you understand forgiveness. Not that you're granting it, but that you're receiving it."
"When Dr. Kuhn became president of the Synod when President Barry died rather unexpectedly in March 2001, he led with a steady hand and a humble heart," recalled current First Vice-President Mueller. "I will never forget that at the April 2001 meeting of the Council of Presidents, when Dr. Kuhn had finished the president's report to the council, the district presidents gave him a standing ovation. I've not seen that, to my recollection, before or since in the council. He is highly regarded among the district presidents for his faithfulness and his joy in Christ. He could have continued as president of Synod, but he had made a commitment to his dear wife, Judy, to retire with Dr. Barry, and he intended to keep that promise."
Although Kuhn did not truly retire at that time — but rather served on the Synod's Board of Directors from 2001 through 2013, he enjoyed time with his wife, Judy, living at the Lutheran Haven community in Oviedo, Fla., before her death in 2014.
"Dr. Kuhn was the chairman of the LCMS Board of Directors in 2005 when I was nominated and eventually called to serve as the LCMS chief administrative officer," noted Ronald P. "Ron" Schultz, chief administrative officer for the LCMS.
"We worked very closely together during the time he was the board chair, said Schultz. "Dr. Kuhn served the board and the Synod well during those years, always striving to give everyone their chance to be heard during a time of very challenging issues. His gracious leadership was underpinned by his unwavering faith and his humble service to the church he loves."
At the 2013 Synod convention, LCMS President Rev. Dr. Matthew C. Harrison mentioned Kuhn as an outgoing member and chairman of the Synod Board of Directors, saying "we were all determined we'd have a good Board of Directors that would work harmoniously together, and in large measure that is because of Bob, who set the right tone at the beginning."
'Constant source of fidelity'
"It is hard to find words to describe Bob's length and breadth of faithful service to the LCMS," said Harrison more recently. "He has been a constant source of fidelity to the Gospel and [has] deep concern for the well-being of the church. I have relied upon his experience and wisdom again and again. He has my deepest love and respect."
Kuhn represented the Synod's East-Southeast Region as LCMS sixth vice-president since his election in 2013. Expanding on citing "health concerns" as the reason for stepping aside from that post, he said, "The tired guy doesn't serve the organization, fulfill the responsibility, very well — so someone else should have that responsibility."
"I have loved my church and have wanted to do whatever I could for it to be of service to our Lord," said Kuhn. "There have been many times when confronted with the reality of responsibilities of office that I felt, 'I can't do that.' But responsibility cannot be taken lightly nor should it be shirked. Many times I have had the conversation with our Lord, saying that the responsibility in the current situation was greater than I could handle alone. But I sincerely felt that whatever it was for which I had responsibility, the Lord had placed me in that situation to serve Him and do His will. Asking for His wisdom and help I would undertake the task. He has been most gracious, forgiving and loving. To Him be all the glory!"
Deaconess Jeni Miller (jenikaiser@aol.com) is a freelance writer and member of Lutheran Church of the Ascension in Atlanta.
Posted Sept. 23, 2015 / Updated Sept. 24, 2015