By Roger Drinnon
Ongoing violence in the Middle East has led to a mass exodus of refugees — an estimated 4 million people have been forced to leave their homes in Syria alone. Others have fled Iran, Afghanistan and other Middle Eastern countries due to persecution by militant groups like the Islamic State.
More than half of those fleeing the Middle East are children, according to Lutheran Immigration and Refugee Service.
The most recent news headlines report hundreds of thousands of people — mostly from the Middle East and Africa — streaming into Europe. A large portion of these asylum-seekers look for sanctuary in European countries like Germany. As Germany readies for as many as 800,000 more refugees in the coming year, the Selbständige Evangelisch-Lutherische Kirche (SELK), an LCMS partner church, is preparing to respond, not only by providing for the immediate physical needs of the refugees but also by providing for their spiritual care through the Gospel.  As they do, the LCMS will be walking alongside them.
Mercy and a new mission field
The SELK already has been caring for refugees for some time now, and one of its congregations recently garnered international media attention for its ministry of mercy.
"We have about 860 members; more than 600 of them are former Muslims who have become Christians during the last [few] years," said the Rev. Dr. Gottfried Martens, pastor of Trinity Lutheran Church in Berlin-Steglitz. "About 100 more people from Iran and Afghanistan are in the process of preparation in order to receive Holy Baptism during the next couple of months."
In response to media reports mentioning refugees converting to Christianity to improve chances of being granted asylum, Martens said a large number of refugees were becoming Christians prior to fleeing the Middle East.  
"Many of the Iranian Christians in our church had already gotten in touch with the Christian faith in Iran itself and had visited the assemblies of one of the many secret Christian house churches there. They had to flee when the intelligence service found out what they did," he said. "In Iran, converts from Islam to the Christian faith face the death penalty according to the official laws of the country."
Martens said new church members from the Middle East publicly renounce Islam and put their pictures in his congregation's newsletter, which is widely disseminated. He said the outreach effort in his congregation continues to grow week by week.
"Our members are very mission-minded and bring new asylum-seekers from Iran and Afghanistan, if they meet them, here to our church every week. This outreach is so effective that we hardly know how to cope with it anymore," Martens said. "During the last few months, we had a couple of baptisms of former Muslims from Syria and Iraq as well. We also take care of some persecuted Christians from Eritrea at the moment."
A challenge to provide for physical needs
He said as the ministry grows, it also brings some logistical challenges, especially in providing for the physical needs of the refugees.
"We have to provide food and everything which is needed for living for asylum-seekers whose asylum process has not started yet and for those who live here in our church hall so that they cannot be deported," said Martens. "We take care of young people who come here to Germany without their family and try to integrate them into our youth work … and there is a great need for counseling, as many of these refugees are deeply traumatized by what they have experienced in their home country and on their way to Germany."
To accommodate the increasing influx of refugees, Martens said the SELK welcomes any assistance LCMS Lutherans might provide to ensure the ministry continues among the refugees.
Loving care for neighbors
"Even though the challenges are enormous, we always experience that these refugees are a great blessing and encouragement for our faith. We invite our brothers and sisters from the LCMS to our services, so that they can see with how much joy these former Muslims practice their faith and are strengthened by the Body and Blood of our Lord again and again," said Martens. "Thus our guests will experience the truth of the words of our Lord Jesus Christ together with us here in Steglitz: 'I was a stranger and you welcomed me … As you did it to one of the least of these my brothers, you did it to me'" (Matt. 25:35, 40).
Other SELK representatives across Germany seek to continue caring for those in need among this new and unprecedented mission field.
"Whatever people may feel about this large new community in their midst, it can now only be of benefit to receive them with an open, generous spirit," said the Rev. Hugo Gevers, an SELK missionary to migrants and the underserved in Volkmarsdorf, Leipzig. "Christians have a huge responsibility to proclaim the Gospel in Word and [to love others in] deed to both Germans and migrants. In fact, the migrant community of new Christians may indeed help us with this important task."
Gevers shared with LCMS missionaries in Leipzig that one open hall where refugees are being housed and fed contained over 350 men, women and children, including orphans. The situation is growing volatile, as there is little to do, with tensions running high as the people become more desperate about their situation.
LCMS ministry leaders recently met with Synod President Rev. Dr. Matthew C. Harrison to strategize ways that the Synod might best come alongside its German partner to bear Christ in Word and deed. After consultation with SELK leaders and LCMS missionary staff in Europe, it was determined that an initial response will include mercy grant dollars to be used by SELK congregations across Germany, as they reach out to and care for the thousands of displaced people pouring into their country.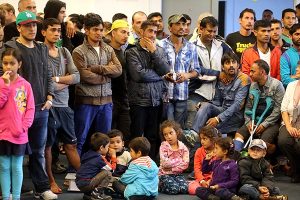 "The need is real. The opportunity is evident. The Lord's mandate is clear, 'Be merciful, even as your Father is merciful'" (Luke 6:36), said Harrison. "The Gospel empowers us: 'For you know the grace of our Lord Jesus Christ, that though he was rich, yet for your sake became poor, so that you by his poverty might become rich'" (2 Cor. 8:9).  
Future efforts might also include various LCMS mercy-ministry leaders and others joining the German Lutherans on the ground to increase capacity and provide tangible support. The ministry leaders also are connecting with Lutheran Immigration and Refugee Service (LIRS), a Baltimore-based organization that grew out of efforts by Lutherans following the Second World War.
LIRS reports that for the first time since WWII there are nearly 60 million refugees worldwide. LCMS Lutherans have the opportunity to help provide for "body-and-soul" care for displaced Christians and other refugees around the world, as many desperately flee from violence and persecution in Syria and elsewhere in the Middle East, Africa and other nations.
The LCMS has established a restricted-use fund to receive donations from those who are compelled by the situation to offer financial help and who want assurance that their donations will be used exclusively for this kind of LCMS mercy ministry and human-care effort: "Christ's Care for the Persecuted & Displaced: mercy for body and soul."
Give now
"Given the magnitude and implications of these world events, we see this as a long-term body-and-soul ministry opportunity," said the Rev. John Fale, executive director of the LCMS Office of International Mission. "Our Lord's mercy is 'blind mercy,' loving our neighbor as we serve Christians and non-Christians with the Gospel and merciful acts of love. We want to extend Christ's mercy and reach out with the comfort of the Gospel to all who are in need by enabling our SELK and other partners as best we can."
Resource: 'Feed My Lambs'
The LCMS Bible study on mercy, "Feed My Lambs," is available as a free download for use in home, school or church settings. The five-session study, written by Synod President Rev. Dr. Matthew C. Harrison, explores how members of the body of Christ demonstrate love and compassion to people in need, including refugees, as an expression of faith. To access the study materials, click here.
Roger Drinnon (roger.drinnon@lcms.org) is manager of Editorial Services for LCMS Communications.
Posted Sept. 21, 2015 / Updated Sept. 24, 2015