At the LCMS Kansas District's 72nd convention — June 4-6 in Topeka, Kan. — delegates elected the Rev. Peter K. Lange of Topeka on the first ballot to be the new district president.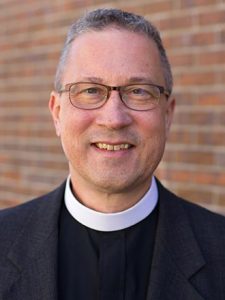 Lange, pastor of St. John Lutheran Church in Topeka for the past 16 years, succeeds the Rev. Keith Kohlmeier, who has held the district-president post for the past 12 years — the maximum allowed by Kansas District bylaws.
Kohlmeier received a standing ovation from the convention assembly, along with a memory book and a gift.
Delegates also re-elected the Rev. Scott Snow, pastor of Holy Cross Lutheran Church, Wichita, Kan., as the district's first vice-president for a second term. The Rev. Justin Panzer, pastor of Faith Lutheran Church, Abilene, Kan., was elected to his first three-year term as second vice-president; the Rev. Wayne "Rick" Rostek, pastor of Immanuel Lutheran Church, Norton, Kan., re-elected to his second term as third vice-president; and the Rev. Dan Galchutt, pastor of Calvary Lutheran Church, Topeka, to his first term as fourth vice-president.
All the officers elected during the convention were installed as it ended June 6. An installation service for Lange also is planned for a yet-to-be-determined date and location.
The 2015 convention theme was "Baptized for this Moment — For Witness and Wellness," based on Acts 2:38-39. In line with that theme, the Rev. John W. Hirsch of Round Rock, Texas, was the convention essayist and there were 10 video presentations — providing five "wellness moments" and five "mission moments."
Synod President Rev. Dr. Matthew C. Harrison preached for the convention's opening service on June 4 and LCMS Third Vice-President Rev. Dr. Daniel Preus was the Synod representative to the convention.
Delegates adopted a number of resolutions.
One of those resolutions reaffirms the relationship between the Kansas District and the Eglise Evangelique Lutherienne en Guinee (Evangelical Lutheran Church in Guinea). For the past 18 years, the district has provided support for the work of that church, including financial resources for a medical clinic and a number of mission teams from the district.
Another resolution calls for strengthening in the district the "divine institution of marriage" (of one man and one woman).
And yet another gives thanks for the 18 years that Marvin Kohlmeier has served as the district's Mission Awareness coordinator. He retires from that position June 15.
Delegates also heard reports on strategic-ministry planning that the district initiated last year.
Posted June 9, 2015