Delegates to the 17th New Jersey District convention elected the Rev. Dr. Anthony Steinbronn of Howell, N.J., to his second three-year term as president. Elected on the first ballot, Steinbronn was installed by LCMS First Vice-President Rev. Dr. Herbert C. Mueller Jr. during a worship service at Martin Luther Chapel in Pennsauken, N.J.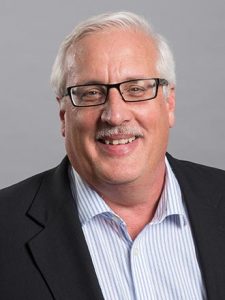 Also re-elected during the June 5-6 convention in Mount Laurel, N.J., were:
Rev. Stephen Gewecke, pastor of St. Peter Lutheran Church, Hopewell Township, N.J., first vice-president and Region 3 vice-president.
Rev. Deric Taylor, pastor of Our Savior Lutheran Church, Fair Lawn, N.J., second vice-president and Region 1 vice-president.
Elected to his first term as third vice-president and Region 2 vice-president was the Rev. Andrew Dinger, pastor of Holy Trinity Lutheran Church, Somerset, N.J.
The three vice-presidents were installed at the convention site, the DoubleTree Suites by Hilton Hotel in Mount Laurel.
Under the convention theme of "Equipping the Saints," from Eph. 4:12-16, Steinbronn suggested 10 focuses for the district, including emphases on tackling the "adaptive challenges" faced by congregations and church workers, forming mission leaders throughout the district and vicars to serve urban areas, and developing a process to assist "at-risk" congregations.
Also addressing the convention theme, Minnesota South District President Rev. Dr. Dean Nadasdy implored pastors to recruit ministry leaders within their congregations to bring the Gospel to people in their communities.
Among adopted resolutions, delegates voted to:
investigate ways to encourage and assist pastors to remain in New Jersey after retirement so that they may continue to serve the district in part-time or advisory capacities. Such assistance might include providing housing in vacant parsonages, a housing allowance or other financial support.
change district bylaws to allow congregations to nominate two (instead of one) ordained ministers as candidates for district president.
amend convention balloting procedures to allow the use of electronic and other methods of voting.
realign and rename district circuits to meet LCMS guidelines for aggregate communicant membership.
An overture that would require at least 90 percent of funds and resources derived from the sale of closed New Jersey District congregations to be distributed equally among remaining district congregations was referred to the district board of directors for further study.
Another overture — to allow voting by email and "virtual," or electronic, meetings for the district's board of directors — failed to receive the required two-thirds vote.
Posted June 9, 2015 / Updated June 10 and June 11, 2015