The new international offices of Lutheran Bible Translators (LBT) on the campus of Saint Paul Lutheran High School in Concordia, Mo., were dedicated on Reformation Sunday, Oct. 25 — a perfect day for the celebration, according to LBT Executive Director Dr. Mike Rodewald.
"What better day to dedicate our new premises than on the anniversary of the Reformation," he said. "The translation of God's Word into the mother tongues of ordinary people transformed the world at the time of the Reformation. We continue in that tradition, reaching people with God's Word through their own language — their heart language."
The 50-year-old LBT had been based in Aurora, Ill., since 1984.
In a Reformation service at St. Paul's Lutheran Church in Concordia, guest preacher Rev. Kenety Gee, pastor of Chatham Fields Lutheran Church in Chicago, marveled, "Who could say that one of those who at one time read a translation done by LBT would come here today and be preaching to you?"
Gee grew up in rural Liberia, Africa, until he was displaced by civil conflict. He recalled that, as a refugee and before making his way to the United States for studies, he owned three Bibles — English, French and Krahn, his mother tongue. The Bible in his own language — an LBT translation — spoke deepest to him, he said.
"I observed as a child that in villages, towns and cities where the Gospel of Jesus Christ had not come, when the Bible is translated, when people can read the Word in their own language, they become light in their own villages, they become the moral standard in villages, bearers to people that otherwise would dwell in darkness," Gee explained.
During the dedication service, Scripture was read in Kisi, by LBT missionary Larry Johnson; Bandi, by Rodewald; and Krahn, by the Rev. Rich Rudowske, LBT's director of international programs, as well as in English — to emphasize that God's Word is for speakers of every language.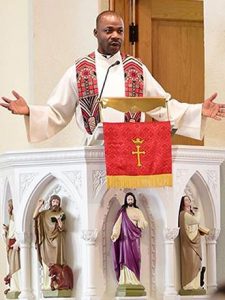 Following the service, guests processed from the church to LBT's new offices at Saint Paul Lutheran High School. The procession was led by international and American students from Saint Paul carrying the flags of 20 nations in which LBT works.
LCMS Missouri District President Rev. Dr. Lee Hagan led the dedication service, which was followed by tours of the LBT offices and the Saint Paul campus as well as a "Celebrate the Ministry" dinner event hosted by the St. Paul congregation.
Members of the school's "Singing Saints" choir, led by choirmaster Dr. Jerrode Baker Marsh, performed "Ein Feste Burg ist unser Gott" in German; "Neno lake Mungu" in Swahili (Tanzania); "Yesu Kwetu ni Rafiki" in Swahili (Kenya); and "Bonse Aba" in Chewa (Zambia), as well as selections in English.
"We are thankful for the partnership with the community and the congregations of the Missouri District of The Lutheran Church—Missouri Synod," said Rodewald. "We are bound through our common vision of reaching others with God's Word. The support and warm welcome we have received here is thankfully felt."
Quoted in The Concordian, Hagan noted, "There are 300 [LCMS] congregations here in Missouri, so it just becomes a great partnership between our congregations, connecting with Bible translating and mission work all over the world."
With 63 missionaries serving to reach others with God's Word, Lutheran Bible Translators has completed 41 New Testaments and/or complete Bibles — impacting an estimated 8 million people — by partnering with church leaders and language communities throughout the world.
Posted Nov. 3, 2015