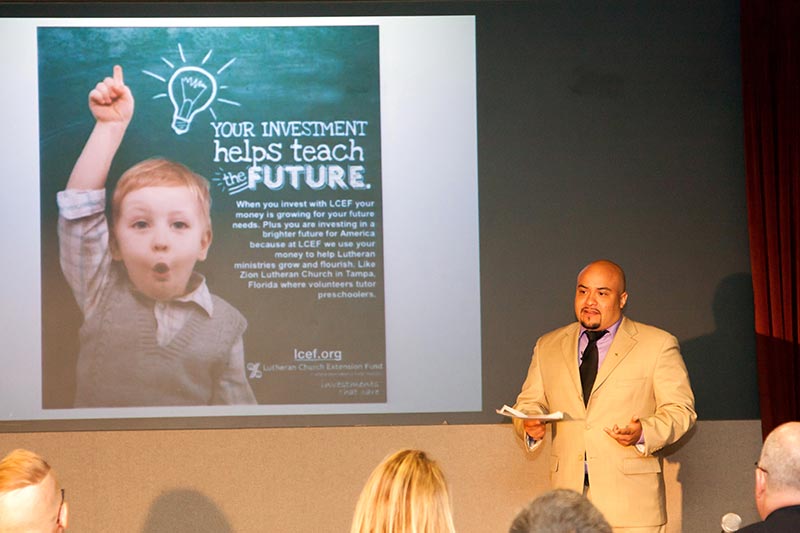 By Kim Plummer Krull
On the heels of college basketball's "March Madness," students from Concordia University System (CUS) campuses across the country competed April 10 in Lutheran Church Extension Fund's (LCEF) National Student Marketing Competition, their own spirited challenge that's more about gaining valuable "real-world" experience and strengthening ministry than shooting buzzer beaters.
Five Concordia University, St. Paul, Minn., students captured the top honor, returning the championship to their campus for the second consecutive year. Eight CUS teams competed in the fourth annual event.
To see more pictures and stories about the competition, visit lcef.org/nsmc.
Hillary Minnaert said teamwork, excellent coaching and the opportunity to create a campaign for "something we could feel passionate about" helped inspire her and Concordia, St. Paul, teammates for this year's challenge — to develop a comprehensive marketing plan to raise awareness of LCEF and its impact on the LCMS, congregations and communities.
The more they researched, the more the students learned about LCEF services that strengthen ministry — ministries like Minnaert's congregation, Concordia Lutheran Church, Geneseo, Ill.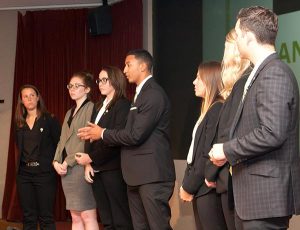 "I'd never heard of LCEF, then I find out they helped us," Minnaert said of her church, which partnered with LCEF for loan support when a new roof was needed.
Other top honors went to the Concordia University, Irvine, Calif., team, which took second place — and another consecutive win — and Concordia College—New York, Bronxville, students, who earned third place and that campus' first competition win.
"We are so blessed to have the Concordia University System as part of our community," LCEF President and CEO Rich Robertson said during a lengthy day of student presentations at the LCMS International Center in St. Louis. "They have come so prepared, and all their hard work and passion really shows."
Debut by Concordia Alabama
Between presentations, the students talked about the challenges of tackling research, compiling statistics, creating catchy slogans and polishing presentations in the midst of already busy schedules.
Most of the students have jobs. Many play school sports and juggled other activities while working on their campaigns.
For the Concordia College Alabama team, those "other activities" included an historic milestone in Selma, where their campus is located — celebration of the 50th anniversary of the Voting Rights Movement, which drew President Barack Obama, among others, as the school also hosted a Civil Rights Symposium.
"I waited five hours to see President Obama when I should have been working on our presentation," Ntokozo Pamacheche, a Concordia Alabama student from Zimbabwe, Africa, said with a smile.
This marked Concordia Alabama's debut in the competition, and business professor Dr. Tawonga Moyo said his students "were grinding really hard to put their best foot forward."
"Even the days when we didn't have class, they met and worked into the night," Moyo said.
Just as LCEF investments strengthen ministry, Concordia University Texas, Austin, senior Madeline Rice called her work on her team's campaign "an investment" in her future.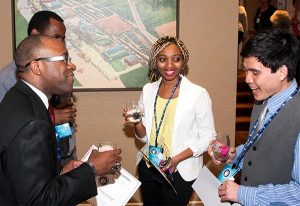 A marketing major set to graduate in December, Rice said she "definitely will reference" the LCEF competition on her resume. She also expects to take her team's strategic-plan booklet on her job interviews.
"I think this [competition experience] is going to be more important [to my future] than playing softball," said Rice, a former member of her school's softball team.
Preparing for 'real world'
This year's competition featured several firsts — including the first 47-year-old "second-career" student and father-of-three participant.
Brandon Wagner, of Maple Grove, Minn., echoed Concordia, St. Paul, teammates half his age when he said he took part in the contest "to learn as much as I can."
A former U.S. Marine and Gulf War veteran who followed his military service with a sales career, Wagner "missed out on the education side" earlier in life. He attends school full time in pursuit of a marketing degree.
Wagner and his fellow students agreed that their diverse backgrounds strengthened their creativity and teamwork.
"We all brought something different to the table," said Thomas Obarski, a kicker with his school's Golden Bears who has been drafted by a National Football League team.
Nancy Mohammed, a native of Egypt, and Dillon LaHaye, of Chanhassen, Minn., rounded out the St. Paul team, whose top-winning campaign featured what is believed to be another competition first — a proposed LCEF bus tour as a campaign centerpiece.
In these days of connecting via computers, taking a road trip to visit congregations may sound old-fashioned, but it's also a way to "look investors in the eye and build relationships," Obarski said of his team's campaign, which included a customized website to promote the bus tour and an LCEF mobile-phone application.
Dr. Nancy Harrower, Concordia, St. Paul, faculty adviser, praised her students and LCEF for providing what she calls a unique, multitiered opportunity.
"We make a big deal about preparing [students] for the real world, and it doesn't get any more real than this," Harrower said of the marketing challenge, which culminates with campaign presentations before a panel of judges. "Every year, my students say this is the best experience of their college careers."
Providing marketing 'gems'
At the evening awards banquet, Becca Jones, LCEF senior vice-president, Marketing and Customer Support, commended all the presentations and thanked the teams for "providing us with some [marketing] gems."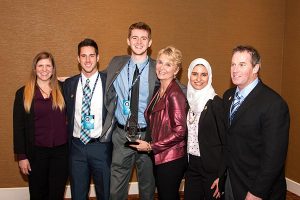 Each team earned a cash prize, ranging from the $5,000 first-place award to $750 participation prizes.
The Concordia, Irvine, team — Margaret Dix, Emily Davis, Sarah Johnson, Austin Loughran, Avalon Lucero, Nate Miles and Hayley Natzic — earned the second-place $3,500 prize. Carolyn Shiery served as faculty adviser.
Concordia New York teammates — Katharina Birgmeir, Brittany Contreras, Ofir Ginat and Samantha Somers — won the $2,000 third-place prize, with Jerry Carrino as faculty adviser.
In addition to Concordia Alabama and Concordia Texas, students from Concordia University Chicago, River Forest, Ill.; Concordia University Portland; and a combined team representing Concordia University Wisconsin, Mequon, and Concordia University, Ann Arbor, Mich., participated.
"We are all winners," Robertson said. "We host this competition to enhance the outstanding education Concordia students receive and to broaden our vision and innovative ideas. We value what the students put into these campaigns, and every year make changes based on their research and ideas. That's something they can be proud of and use as they begin their journey as future business leaders."
Kim Plummer Krull (kimkrull@sbcglobal.net) is a freelance writer and a member of St. Paul's Lutheran Church, Des Peres, Mo.
Posted April 15, 2015 / Updated April 23, 2015