Lutheran Education Association (LEA) is aiming to bring as many as 100 future Lutheran schoolteachers to its 2016 convocation, set for Oct. 13-15 in Grand Rapids, Mich.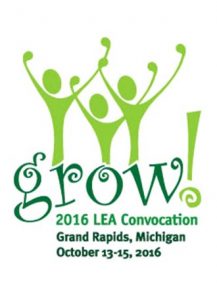 This is the first time that LEA has set a goal for future educators to attend one of its 12 triennial convocations.
To make that happen, the LCMS Recognized Service Organization has launched the "Grow A Teacher" program, seeking donations from LEA members and friends that will be matched in part from other generous large donors.
LEA itself has pledged $11,000 toward a total goal of $46,000, the amount required to fund the registration of 100 future Lutheran schoolteachers.
Students selected to attend from the 10 Concordia University System schools will receive full registration and access to the convocation program, plus a special pre-convocation event. A student team and the Rev. Ryan Peterson from Concordia University, Ann Arbor, along with LEA staff are leading the planning for the "Grow A Teacher" event.
For more information, visit the convocation Web page and look for "Grow a Teacher Campaign" under the heading "2016 Convocation Updates."
The theme of the 2016 LEA Convocation is "Grow!," based on 2 Peter 3:18, which reads, "But grow in the grace and knowledge of our Lord and Savior Jesus Christ. To him be glory both now and forever! Amen."
Posted Dec. 7, 2015