The Rev. Dr. W. Leroy Biesenthal — a former Synod staff member who developed and led Dialog Evangelism and Witness Workshops throughout the Synod and worldwide to help Christians share their faith — died Sept. 3 of age-related ailments. He was 90.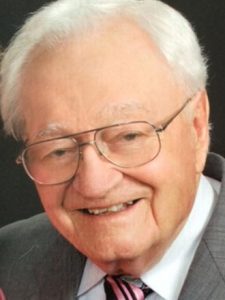 A funeral service dedicated to the glory of God, in Biesenthal's memory, was held Sept. 8 at Concordia Lutheran Church in Kirkwood, Mo.
A memorial service also was held Sept. 7 in the chapel at Meramec Bluffs, a retirement facility in Ballwin, Mo., where Biesenthal resided in later years and where he died in its care center.
"Dr. Leroy 'BZ' Biesenthal was a remarkable gift to the whole Synod and to me personally for many years," LCMS President Emeritus Rev. Dr. Ralph A. Bohlmann told Reporter. "As co-worker, colleague, helper, encourager, caregiver, teacher and friend, how deeply he loved our Lord Jesus Christ! He delighted in sharing His Good News with one and all — and taught us to do the same. Today we thank and praise God for His precious gift of eternal life to Dr. Biesenthal, and for calling him to be a true evangelist among us."
Survivors include a daughter, Kim (Don) Markland of Houston, and a son, the Rev. Bruce "Max" (Karen) Biesenthal of St. Louis; four grandchildren; four great-grandchildren; and a sister, Myra (Don) Arnold of Port Colborne, Ontario, Canada. Preceding him in death were his wife of 65 years, Marie (nee Archibald), and a granddaughter.
A native Canadian, Biesenthal graduated from Concordia Seminary, St. Louis, in 1948. He served the first 21 years of his 42-year ministry in Michigan — beginning with two years as assistant pastor at Bethlehem Lutheran Church, Detroit. In 1950, he accepted a call from the LCMS Michigan District to start a mission in Ecorse Township (a Detroit suburb). That congregation (Christ the King Lutheran Church) had 600 members and a growing Christian day school when he left in 1960 to become pastor of Trinity Lutheran Church, Utica, Mich. — a congregation with 2,000 communicant members and a school with more than 500 students.
He next served on the LCMS Missouri District staff (1969-79) as director of Stewardship and Evangelism.
From 1979 to his retirement in 1990, he was on the staff of the LCMS Board for Evangelism Services — first as associate secretary and then as director of District Services.
In addition to leading Dialog Evangelism Clinics and Witness Workshops worldwide, he had countless speaking engagements throughout the Synod and overseas.
At various times, he was on the Board of Control of the former Concordia Senior College in Fort Wayne, Ind., and the LCMS Project Timothy pilot team, for which he briefly worked in the Philippines.
In retirement, Biesenthal served on the staffs of Concordia Lutheran Church, Kirkwood, and Hope Lutheran Church, Pompano Beach, Fla., and he was director of the 1997 LCMS Great Commission Convocation.
He received an honorary Doctor of Letters degree from Concordia College (now University), St. Paul, Minn., in 1984.
Biesenthal also was an avid St. Louis Cardinals baseball fan.
"Rev. Dr. W. Leroy Biesenthal loved his Lord, and loved to talk about the Lord Jesus Christ. He devoted his life to Jesus," said the Rev. David P. Schmidt, preacher for the Sept. 7 memorial service. "From Canadian roots to seminary graduation in St. Louis, God prepared this special man for the sharing of the Gospel. God called him and equipped him, and faithfully Leroy did what the Lord planned for him to do. In 12 countries and with thousands of individuals Leroy enjoyed sharing Jesus and preparing others to do the same. 'People matter,' he would say, and for them he spent his life in ministry, while thanking Jesus for the chance. I was privileged to be called his friend. We've learned from him! Thank you, Jesus."
Memorial gifts may be made to Lutheran Senior Services (LSS) Hospice Care, 1150 Hanley Industrial Drive, St. Louis, MO 63144.
Posted Sept. 7, 2015 / Updated Sept. 14, 2015