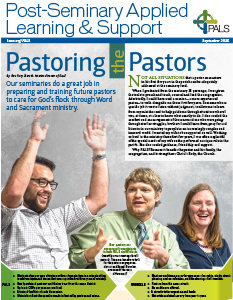 Our seminaries do a great job in preparing and training future pastors to care for God's flock through Word and Sacrament ministry.
Download Reporter Insert
Visit lcms.org/pastoraleducation to learn more about the programs and ministry of LCMS Pastoral Education.
P.S. Don't forget to sign up to visit the campuses of both LCMS seminaries — Concordia Theological Seminary in Fort Wayne, Ind., and Concordia Seminary, St. Louis, Mo. For more information about all future seminary events and academic programs, visit ctsfw.edu and csl.edu.