The Rev. Dr. Louis A. Brighton, emeritus professor at Concordia Seminary, St. Louis, died Nov. 13 — surrounded by family at a Savannah, Ga., hospital. He was 88.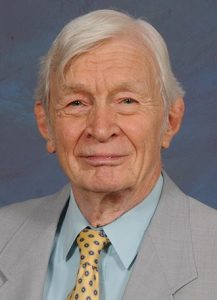 Visitation is set for 10 a.m. Nov. 20, followed by a funeral service at 11 a.m. at Trinity Lutheran Church, 12391 Mercy Blvd., Savannah, Ga.
Among survivors are his wife, Mary Belle; five children — Stephen Brighton, Anne Fischer, Christine Moran, Mary Helen Anander and Mark Brighton; 10 grandchildren; 10 great-grandchildren; and one brother, Dr. Carl Brighton.
"My dad was the best father that I could have ever had," said his daughter, Christine Moran, who lives in Savannah. "We miss him so much. The spirit of God in him was so incredible. I felt God's presence so strongly in him, even when I was a small child."
Concordia Seminary President Dr. Dale A. Meyer described Brighton as "a churchman and scholar," and said he would "always remember him in a personal way.
"For decades I worked with Lou and his dear Mary at 'The Lutheran Hour' and Concordia Seminary, and came to appreciate him first and foremost as a man who loved people and especially loved his Savior," Meyer said. "I am just one of countless people that Dr. Brighton helped, and through his scholarship continues to help on the heavenward way."
In 1999, Brighton wrote "Revelation" as part of the Concordia Commentary Series. After teaching a course on Revelation for 25 years at the seminary, Brighton was recognized as one of the church's foremost authorities on the book.
Brighton retired in 1998 after 24 years of service as professor of Exegetical Theology at Concordia Seminary. Before joining the faculty in 1974, he ministered to Lutheran congregations in the United States and England.
He served as a professor at Evangelical Lutheran Church of England (ELCE) Seminary, Cambridge, England, in 1957 and was a member of the ELCE Board of Directors (1954-58).
He helped establish the program of seminary preparation for Lutheran pastors in England that later developed into Westfield House in Cambridge. His parish ministry included service on various committees, especially those dealing with pastoral education and evangelism, and he was a member of the Board of Regents at Concordia Senior College (now Concordia Theological Seminary), Fort Wayne, Ind. (1973-74).
He earned a Master of Divinity in 1952 and a Master of Sacred Theology in 1964, both from Concordia Seminary. He earned a doctorate in Biblical Languages and Literature from Saint Louis University in 1991.
Fairhaven Funeral Home in Savannah is handling funeral arrangements.
Memorial contributions may be made to Concordia Seminary's Student Financial Aid Endowment Fund or The Lutheran Church—Missouri Synod's fund, "Christ's Care for the Persecuted and Displaced."
Posted Nov. 17, 2015 / Updated Nov. 18, 2015 / Updated Nov. 23, 2015