By Megan K. Mertz
PETERSBURG, Ky. — More than 375 people, including 42 students over the age of 13, gathered here near Cincinnati Oct. 30-31 for the 2015 Lutherans For Life (LFL) National Conference, under the theme "Created, Redeemed, Called."
The event got underway Oct. 30 with opening worship, a banquet and a keynote presentation by Ken Ham, president and co-founder of Answers in Genesis and the Creation Museum. Ham addressed the importance of starting from the beginning of the Bible — with creation in Genesis 1 — when sharing the Gospel message with unbelievers.
"Most people, when they share the Gospel in our churches, start toward the end. In fact, the way most people read their Bible, they start toward the end," Ham said. "But isn't it true that you can't understand the Good News of the New Testament unless you understand the bad news of the Old Testament? I have people say, 'We need to go out and see people saved.' I've got news for you: They don't even know that they're lost."
Ham went on to explain that a rejection of the biblical creation account has led many young people to reject the Gospel as well. In America today, he said, Christians need to approach evangelism the way the apostle Paul approached the Greeks in Acts 17, starting from the very beginning about who God is and why all people need the Savior.
"I've often said we need a new Reformation," he continued. "Where Luther nailed those theses on the door of the church, we need to be going to churches, Christian colleges, seminaries, Bible colleges in this day and age and nailing Genesis 1-11 on the doors because that's where we've lost biblical authority."
Other presentations
For its second day, the conference took place at the Creation Museum, where attendees had time to explore the 75,000-square-foot facility.
In his presentation "Fearfully and Wonderfully Made," Dr. David Menton, speaker for Answers in Genesis and associate professor emeritus of anatomy at Washington University School of Medicine, St. Louis, gave an up-close look at the development of a child in the womb.
"The very first moment of a genetically distinct person on this earth is fertilization. There is no other unambiguous point," he said, as he explained how, under a microscope, the human body is actually woven together as it develops.
Tim Goeglein, vice-president for External Relations for Focus on the Family in Washington, D.C., addressed the conference on the interaction between faith and the public square, especially as it pertains to cases like Roe v. Wade and Obergefell v. Hodges.
"We are not at the end of anything regarding these major Supreme Court decisions," Goeglein said. "We are only at the beginning of a legal, moral and constitutional arc, which, if we do not have the kind of break that our founding fathers and mothers intended, will result as it has in all of the developed world except for the United States of America into a measurable religious and conscience binding, which is absolutely in opposition to everything we believe as Lutherans."
Col. John Eidsmoe, a pastor with the Association of Free Lutheran Congregations who also serves as professor of Law at the Oak Brook College of Law and Government Policy in Fresno, Calif., and professor of Apologetics at the Institute of Lutheran Theology in Brookings, S.D., continued the discussion by looking at the impact that the theory of evolution has had on worldview, law and government, which includes evolving standards and applications of the Constitution.
"If government is the source of rights, government can take them away or limit them in whatever way government sees fit," he said. "We can only say they are 'unalienable rights' if we recognize that they come from a higher source than government. And what source could that be but God Himself?
"I would go so far as to say that the deepest and most important issue facing law today, not just in America but throughout the world, is whether law is simply the creation of man, in which case all that really matters is who has the mightiest fist, or whether law is to reflect the higher reality of the Law of God," Eidsmoe continued.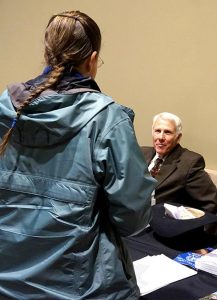 Bethany Glock, a graduate student at the University of Illinois at Urbana-Champaign, was a first-time attendee at the conference.
"My campus ministry was very graciously willing to help us cover the cost to come, so I decided to take advantage of it. You can never know enough," she said.
Recognizing Lamb
During the conference, attendees also had the chance to meet the Rev. Michael W. Salemink, incoming executive director of LFL, and celebrate the ministry of current LFL Executive Director Rev. Dr. James I. Lamb, who officially retires at the end of the year.
Lamb was recognized for his service to LFL while being serenaded by his staff and showered with stuffed lamb toys. He also was presented with a poster of words — sent in by co-workers and friends — that describe him, such as "Christ-focused," "committed" and "cool."
"I have never felt like I was really leading Lutherans For Life. God has always been leading this ministry way before me. He'll continue to do it after me. I've just spent almost 20 years trying to keep up with God," Lamb said.
Awards
During the Oct. 30 banquet, Lamb presented the Dominus Vitae Award — an award LFL gives to people whom God has used in extraordinary ways to uphold life — to Dr. Maggie Karner, former director of LCMS Life and Health Ministries, who passed away in September after a battle with brain cancer. Karner's two brothers and sister accepted the award on her behalf. Lamb noted that he had the pleasure of telling Karner about the award in a visit shortly before her death.
During the banquet, the winners of a national essay contest sponsored by the Council of LFL Federation Presidents read their winning essays. Hannah Nissing of St. Charles, Mo., won in the sixth- through eight-grade division and Rebekah Anderson of St. Paul Park, Minn., won in the high-school division.
Next conference
The next LFL conference is set for Oct. 21-22, 2016, at St. Michael's Lutheran Church, Bloomington, Minn. The 2016 conference theme will be "Here We Stand."
Megan K. Mertz (megan.mertz@lcms.org) is a staff writer and managing editor of Lutherans Engage the World with LCMS Communications.
Posted Nov. 13, 2015