The Rev. Dan P. Gilbert of Addison, Ill., was re-elected president of the LCMS Northern Illinois District (NID) by delegates to the district's 58th Regular Convention, which met March 6-7 at Concordia University Chicago, in River Forest, Ill.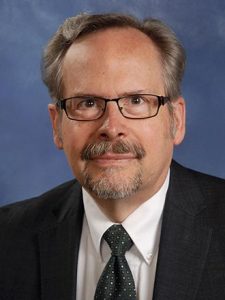 Gilbert's re-election came on the first ballot to his fourth, and — as directed by district bylaws — final three-year term as NID president.
Others elected by delegates to the convention are:
the Rev. Mark C. Schulz, pastor of Trinity Lutheran Church, Lisle, Ill., and formerly an NID regional vice-president — first vice-president.
the Rev. Kenneth E. Krause, pastor of Mount Olive Lutheran Church, Rockford, Ill., and district secretary since 2006 — second vice-president.
the Rev. Kristopher R. Whitby, pastor of Saint Paul Lutheran Church, Mount Prospect, Ill., and former regional vice-president — third vice-president.
the Rev. Harold L. Therwanger-Tatone, pastor of First Immanuel Lutheran Church, Chicago — fourth vice-president.
the Rev. Dr. James A. Kellerman, pastor of First Bethlehem Lutheran Church, Chicago — district secretary.
Installations for all those elected are set for June 7 at the Concordia University Chicago chapel.
The convention theme of "Breaking Through" underscored the mission offensive to which the church is called. Gilbert told the convention: "Our theme emerges from the passage, 'I will build my church, and the gates of hell shall not prevail against it' [Matt. 16:18b]. Defense, the guarding of our doctrine and practice, is only part of that."
"This passage means we are on the offense — or at least we are supposed to be," he said.
The district's mission strategy to encourage congregations to accelerate their work in local missions, known as "New Starts … New Believers," was evident in convention action.
Mission-directed resolutions were adopted to encourage faithful mission work throughout the district, affirming New Starts … New Believers as the current mission emphasis and encouraging every congregation to start "one new thing" in outreach.
Delegates also resolved to commit themselves to mutual cooperation and partnerships between larger and struggling congregations for the sake of Christ's Church. They directed that building such partnerships continue to be a priority for district staff.
The convention delegates also asked for continued communication on New Starts … New Believers and an annual Mission Forum where strategies, results and future directions for New Starts … New Believers can be discussed. In addition, the action called for "creative suggestions" to help support struggling congregations.
In another resolution they adopted, delegates resolved that the Synod review procedures for "allowing dissent to be properly expressed and bringing false teachers to repentance and for removing those who refuse to repent." The resolution specifically named the Rev. Dr. Matthew Becker and called him to repentance for publicly teaching and advocating "positions contrary to the Word of God and the Lutheran Confessions."
Delegates also adopted a resolution to raise awareness of actions by Thrivent Financial that removed Lutherans For Life from their list of organizations approved to receive fraternal benefit funds. The action calls for inviting a representative of Thrivent to communicate personally with the district's pastors at the Spring General Pastoral Conference.
Synod President Rev. Dr. Matthew C. Harrison led the convention in a Bible study on the connection between acts of mercy and local missions. A district presentation featured four pastors sharing first-hand what they are doing to reach into their communities.
In a moment of celebration, convention attendees witnessed the signing of protocol documents for church fellowship by Harrison and the Rev. Torkild Masvie, acting bishop of the Lutheran Church in Norway. For more about fellowship between their two church bodies, see "Synod fellowship with Norway church moving forward."
The Northern Illinois District has been closely involved with the start-up of this small, confessional church body in Norway, which began in 2005. Significant financial support for Masvie has come from four NID congregations and another congregation in Bloomington, Minn.
Posted March 13, 2015 / Updated June 15, 2015