Materials designed to help LCMS schools celebrate "National Lutheran Schools Week" Jan. 24–30, 2016, are now available as free downloads.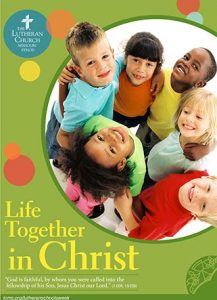 The theme for 2016 is "Life Together in Christ," based on 1 Cor. 1:9: "God is faithful, by whom you were called into the fellowship of his Son, Jesus Christ our Lord."
"The 2016 National Lutheran Schools Week emphasis provides Lutheran schools with the privilege of celebrating life together within the school and congregation contexts, in the homes of school families and into the communities that the schools serve," the Rev. Robert Riggert, author of the resource manual, writes in the introduction. "National Lutheran Schools Week is an opportunity to step beyond the routine of school ministry to share the mission of the Lutheran school and celebrate the blessings of a Lutheran school ministry."
The resource manual contains an order of worship for a chapel service, notes for a chapel talk, and daily student and faculty devotions. It also includes the hymn "Life Together, Life Forever" by Dr. Jeffrey E. Burkart, which was written specifically for the 2016 celebration.
In addition to the manual, there also are downloadable posters, a bulletin insert, a proclamation from LCMS President Rev. Dr. Matthew C. Harrison and a worship service PowerPoint.
"These materials will provide our schools with the opportunity to celebrate as part of the largest single parochial school system in our country, using a common theme," said Terry Schmidt, director of LCMS School Ministry. "We thank God for the opportunity of our life together in Christ Jesus."
The 2016 National Lutheran Schools Week resources are available free of charge at lcms.org/lutheranschoolsweek.
Posted Nov. 11, 2015