At the 17th Regular Convention of the LCMS New England District, June 11-13 in Springfield, Mass., delegates re-elected the Rev. Timothy R. Yeadon of Barkhamsted, Conn., as district president. Yeadon was elected on the first ballot to his second term.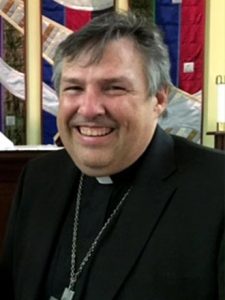 Also elected were:
Rev. Robert D. Beinke, pastor of St. Peter Lutheran Church, Norwalk, Conn., as first vice-president (Region 3). Beinke previously served one term as third vice-president.
Rev. James E. Butler, pastor of St. Luke's Lutheran Church, Dedham, Mass., second vice-president (Region 1), first term. Butler previously served for 18 years as district secretary.
Rev. Scott Schuett, pastor of Redeemer Lutheran Church, Lebanon, Conn., third vice-president (Region 2). Schuett previously served one term as second vice-president.
The convention theme was "Be Still, and Know that I Am God," based on Ps. 46:10. Throughout the convention, delegates heard updates on Gospel ministry taking place through local LCMS congregations following recent tragedies in the district, such as the Newtown school shooting and the Boston Marathon attack.
Delegates adopted a number of resolutions, including to:
support the continued work of the deaconess for Human Care, a districtwide position focusing on ministering to the needs of church workers and their families.
affirm a responsible use of Holy Scripture that rejects both the Historical Critical Method and fundamentalism, which confuse Law and Gospel.
encourage district congregations and schools to create Church Worker Support Teams to care for those who care for the church.
memorialize the Synod in convention to overrule CCM Opinion 14-2724 that clarified language in Synod Bylaw 3.8.3 — which states, in part, that the LCMS Board for International Mission (BIM) "shall serve as the only sending agency through which workers … are sent to the foreign mission areas of the Synod." The resolution also calls on the 2016 Synod convention to amend Synod Bylaw 3.8.3 to state that the BIM is "a sending agency" and that it shall not "[forbid] or [limit] the direct work of and financial support by districts, circuits, congregations, auxiliaries, and RSOs for international missions."
ask the Synod in convention to amend the LCMS Bylaws to "allow each region of the Synod to conduct its own election for its Regional Vice-President." Delegates to the Synod convention would then rank the slate of vice-presidents.
encourage the ongoing revitalization efforts of the district. This resolution calls for the district to maintain "a directory of currently available revitalization programs, processes, and resources" for congregations to use as they "rededicate their ministries to reaching the un-churched in their communities with the Gospel of Jesus Christ.
On the final day of the New England District convention, the Rev. Bart Day, executive director of the LCMS Office of National Mission, installed Yeadon, who then installed all the other officers of the district.
Posted June 19, 2015 / Updated June 22, 2015