In the November special "State of the Synod" issue of The Lutheran Witness, readers will get an in-depth look at the LCMS ministries, resources and people ready to serve them.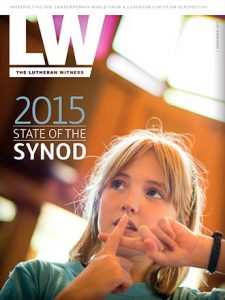 They'll get a glimpse of the work the Lord is accomplishing both nationally and internationally through the LCMS as well as find information on the challenges the Synod faces, its financial status and recent trends in giving.
Other resources — like statistics on the number of missionaries in the field, information on the upcoming 2016 convention and how to get and stay connected with other Lutherans — are featured, as well.
From LCMS Black Ministry to the Global Seminary Initiative, from LCMS Urban & Inner-City Mission to LCMS Disaster Response, the Lord is working good for His people, and the November issue of the magazine serves to highlight it.
To read more free online content from The Lutheran Witness or to subscribe to the print or digital version, visit witness.lcms.org.
Posted Oct. 29, 2015