Delegates to the 60th convention of the Synod's South Dakota District, held April 13-16 in Sioux Falls, S.D., elected the Rev. Scott C. Sailer of Sioux Falls to his first term as president.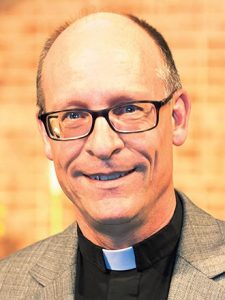 Sailer, 56, is senior pastor of Faith Lutheran Church, Sioux Falls, and had served as the district's first vice-president since 2013.
Elected on the first ballot, Sailer succeeds the Rev. Dr. Dale L. Sattgast, who had served three terms as district president and chose not to stand for re-election.
Also elected to their first terms as district officers were:
Rev. Gene Bauman, pastor of St. Paul Lutheran Church, Spearfish, S.D., first vice-president.
Rev. L. Scott Spiehs, pastor of three congregations — St. John's Lutheran Church, Wolsey, S.D.; Zion Lutheran Church, Wessington Springs, S.D.; and Mount Olive Lutheran Church, Woonsocket, S.D., second vice-president.
The newly elected vice-presidents and district board of directors members were installed during the convention's closing worship service.
Sailer's installation is planned for June 14 at Faith Lutheran Church, Sioux Falls.
Under the convention theme of "Called Into Partnership — For Mercy (Diakonia)," essayist LCMS President Rev. Dr. Matthew C. Harrison began his presentation by walking attendees through the Bible, highlighting how Jesus helped people in need. In the second part of his essay, Harrison used 2 Corinthians 8-9 as a model of how Christians — motivated by the mercy that Jesus has shown them — carry out acts of mercy to help their neighbors in need.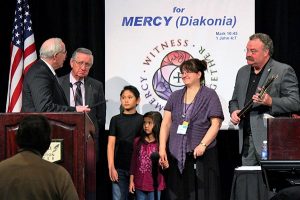 In his report to the convention, retiring President Sattgast highlighted the district's many missions and ministries. He reported that the district's baptized membership, communicant membership and average worship attendance have been declining, but that congregations are contributing more financially to support the district and Synod.
Sattgast encouraged South Dakota District congregations to plant and support new congregations within the district.
During business sessions, delegates adopted two resolutions related to the process of expelling a member of the Synod:
Resolution 1-12 asks the Synod to form a committee that would revise LCMS Bylaws in order to allow the accuser in such matters to appeal the decisions of district presidents and referral panels.
Resolution 1-13 asks the Synod to establish a committee that would study procedures in the LCMS Constitution and Bylaws concerning ecclesiastical supervision in these matters.
Both resolutions ask that the committees present any proposed amendments or revisions to the Synod's 2019 national convention.
In other adopted resolutions, delegates voted to:
encourage district congregations to perform works of mercy in their communities.
provide financial assistance to LCMS Missionary Rev. Dr. Alan Ludwig for training pastors at the Lutheran seminary in Novosibirsk, Russia.
thank God for the work of Missionary Amy Kashenov in Kazakhstan, which the district supported for nearly 20 years. Because of health concerns, Kashenov retired from the mission field in 2012.
The next convention of the South Dakota District is planned for April 19-21, 2018.
Posted April 17, 2015 / Updated April 18, 2015