Registration is open for two Specialized Pastoral Ministry educational events sponsored by the LCMS in May. Both will be held at Our Lady of the Snows Retreat and Conference Center in Belleville, Ill., and are free of charge.
The Emergency Services Chaplaincy Day Conference on May 4 is designed for chaplains who serve police, fire and other emergency services as well as those who are considering this ministry, including seminarians.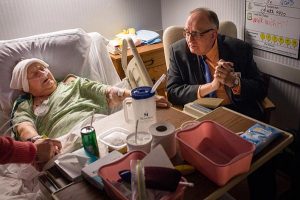 Scheduled presenters are LCMS Emergency Services Chaplains Rev. William F. Engfehr III of Collinsville, Ill., and Rev. Dr. William Wagner of Beloit, Wis.; the Rev. John Fale, associate executive director of LCMS Mercy Operations; and the Rev. Joel Hempel, interim director of LCMS Specialized Pastoral Ministry (SPM).
"Specialized Pastoral Ministry in the Realm of the Left Hand," May 5-7, is for ordained and commissioned ministers who serve full or part time — including as volunteers — in institutional chaplaincy, emergency-services chaplaincy, pastoral counseling or clinical pastoral education. Interested parish pastors — and seminary and deaconess students — also are welcome to attend.
Leading the presentations on "Luther's Left Hand" and "Ministering with Peace in the Left Hand" will be the Rev. Dr. Joel Biermann, professor of Systematic Theology at Concordia Seminary, St. Louis. LCMS Missouri District President Rev. Dr. Ray Mirly will lead Bible studies.
Both events offer free registration, lodging and meals, but the number of participants is limited. Some travel scholarships also are available.
Specialized pastoral ministers are different from parish ministers in that they serve in hospitals, prisons, hospice centers, nursing homes, counseling centers and other locations outside of most mainstream ministries, notes Hempel.
"They work in the streets alongside of law-enforcement officers and firefighters," Hempel said. "They show up in places where many others would just as soon avoid. Day after day they sit with the dying, the imprisoned, the suffering and the forgotten. They seek out those who are hopeless or discouraged or fearful of the unknown and wondering about whether there really is a God who cares and forgives and prepares the way for them."
Hempel said the contexts in which specialized pastoral ministers serve "are incredible mission fields — every day there are opportunities to not only be the Gospel but to share the Gospel with words of mercy and the Word of grace."
To register for the above events, visit lcms.org/spm. For more information about Specialized Pastoral Ministry, call 314-996-1312 or send an email to spm@lcms.org.
Audio recordings of both of the May presentations will be available on the website.
Posted April 22, 2015