How can we best comfort and support couples suffering from infertility? Is adoption a viable option for every barren couple? What is the Church to think, say and do about reproductive technologies like in-vitro fertilization and embryo adoption?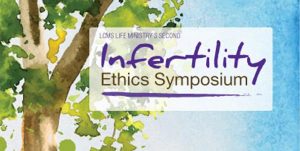 These are just a few of the questions that will be addressed at LCMS Life Ministry's second Infertility Ethics Symposium, set for Saturday, Nov. 7, at Concordia Theological Seminary, Fort Wayne, Ind.
"When my own church body enters boldly into the public conversation of infertility ethics, I can't help but feel a bit of a thrill," said author Katie Schuermann, one of the speakers scheduled for the symposium. "There are so many people — those struggling with barrenness, those suffering from miscarriages, those coping with the highs and lows of the adoption process, and those precious, embryonic children currently frozen in liquid nitrogen — who stand to benefit from the LCMS' careful application of the Word of God to assisted reproductive technologies.
"I am thankful for the faithfulness of LCMS Life Ministry in hosting this symposium for the benefit of all of us in the church," Schuermann continued, "and I ask for the continued prayers of my brothers and sisters in Christ as we all talk to each other about how best to respect, protect and preserve the lives of the children God would give us."
In addition to Schuermann, conversations about life topics such as those raised in the questions above will be led by:
Dr. Donna Harrison, president of the American Association of Pro-Life Obstetricians and Gynecologists;
Rev. Scott Stiegemeyer, assistant professor of Theology and Bioethics at Concordia University Irvine, Irvine, Calif.;
Rev. Michael W. Salemink, executive director-elect of Lutherans For Life; and
Rev. Philip Zielinski, pastor of St. Paul Lutheran Church, Valley City, Ohio.
The free, one-day event is open to pastors and laypeople. A luncheon is included with registration.
To register, contact LCMS Life Ministry at 314-996-1711 or tracy.quaethem@lcms.org. Find more information about LCMS Life Ministry at lcms.org/life.
Posted July 24, 2015