On Sept. 15, Senator Mike Lee (R-Utah) will explain to LCMS Lutherans why he doesn't shy away from a challenge, especially when it comes to introducing legislation that may impact LCMS pastors and congregations.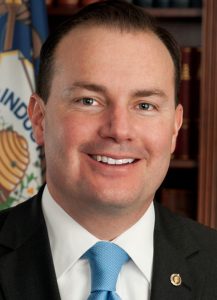 In a webinar hosted by "Free to be Faithful" — the Synod's education and awareness campaign promoting life, marriage and religious liberty — Lee will outline a bill he recently co-authored that would prevent any federal agency from denying tax exemptions to an individual, association, business or church based on the belief that marriage is a union between one man and one woman.
Interested individuals are invited to join the webinar at 9 a.m. Central time, when the senator will discuss this legislation — titled the First Amendment Defense Act — along with his staff members Leslie Ford and Conn Carroll. Lee will explain the act and take questions from webinar participants both about tax-exempt status and its future.
Church workers and members of congregations concerned that the IRS could strip the LCMS and its congregations of tax-exempt status can register for the free webinar by completing the online registration form, by emailing infocenter@lcms.org or calling 888-THE LCMS (888-843-5267). Spaces for live participation in the call and webinar are limited.
A recorded version of the webinar will be available online shortly after the live call.
Posted Sept. 1, 2015