The September issue of The Lutheran Witness tackles commonly misunderstood myths regarding Christianity.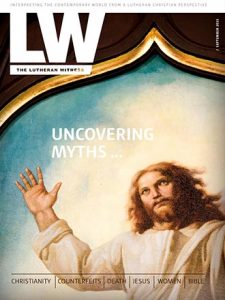 Questions answered include, "After we're dead, do our bodies even matter? Are we allowed to judge others? What about the old heresies that continue to rear their ugly heads? Is the Lord's Supper dependent on how much faith we have? Do we really have to sing hard hymns? Other topics tackled in the issue include discussions regarding women's ordination, whether or not Christians are hypocrites and the efficacy of the Sacraments.
This month's magazine encourages readers to return to Jesus and His Word for the answers to these and other questions. It is meant to help readers make a good confession of the faith while keeping in mind, as cover story author Rev. Derek Roberts writes, "The Word of God is the number-one aid in the fight against heresy. His true Word shines light on all falsehood."
To order The Lutheran Witness, go to cph.org. To read free online content from the magazine, go to witness.lcms.org.
Posted Aug. 27, 2015