SLED — equipping educators to lead critical mission field
By Kim Plummer Krull
"An answer to prayer" is what Marsha Hafer calls the opportunity to participate in the LCMS School Leadership Development (SLED) Project even as she began her first year as a principal, serving at Peace Lutheran Elementary School in Bremerton, Wash.
The highly valued training and recruiting program "puts us in relationships with people facing the same situations," said Hafer, one of 49 LCMS educators who took part in the national SLED event June 17-19, in St. Louis.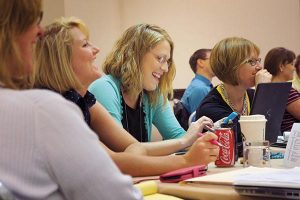 Hafer, 52, a veteran teacher and newly called principal, named a few such "situations" to which Lutheran instructors can relate: How do we push enrollment? How do we keep the Church the cornerstone and focus of our schools?
Identifying and equipping educators for those and countless other challenges is the purpose of SLED, a program of LCMS School Ministry.
Since 1996, the program has produced a pool of nearly 400 potential administrative candidates — an accomplishment that LCMS School Ministry Director Terry Schmidt says is "even more essential today than ever before."  
By 2018, he says, 40 percent of Lutheran school administrators now serving are expected to retire, creating a significant leadership void.
Many schools already are feeling that pinch. Every week, Schmidt says, he gets calls asking for candidates who might fill vacancies. "They say, 'Give me a list [of names]' … something I can't always do," Schmidt said.
Tools for administrative career
As a junior high teacher and coach, Kevin Creutz had no desire to move into school administration — until Marc Debrick, principal at Zion Lutheran School, St. Charles, Mo., and a member of the first SLED graduating class, saw the makings of a future administrator and encouraged Creutz "to start this trek."
"SLED gave me the tools to begin my administrative career," said Creutz, 36, who completed SLED training in 2007 and, after a stint as an assistant principal, now serves as principal at Central Lutheran School in New Haven, Ind.
Creutz says he especially appreciates the networking that's a key SLED component. During this past academic year — his fourth as principal — Creutz's SLED connections helped him easily seek the counsel of more experienced educators.
"It's good to have someone you can vent to, share with and say, I've got this situation on the horizon. How did you handle that?" Creutz said.  
Today, Creutz is one of several SLED graduates serving as mentors to the newest crop of SLED participants. Although his plate is full, Creutz gladly makes time to lend an ear to future administrators at SLED training events and throughout the year by phone and email.
"I know the difference that [mentors] made to me," he said. "We're all in this ministry together. When one is strong, it helps all of us to stay strong."
Demanding year, but grateful
SLED participants take part in three national training sessions — in June, February and the following June. This session marked the program's culmination for 24 graduates and the kick-off for 25 educators in the SLED class of 2016.
"I love teaching but I also love that I can do even more in administration," said Kerrie Roesler, 26, fresh from her fourth year as a Lutheran elementary school teacher in Wisconsin.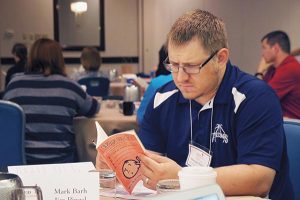 Her father, the Rev. John Kelling — a former principal — urged her to participate in the SLED program, where graduates earn three hours of graduate credit and an LCMS school leadership endorsement.
"He told me it was a big boost to him … it taught him things he still relies on," Roesler said, adding that she looked forward to "learning as much as I can" at her first training event.
Along with mentor work groups, this session was packed with educational experts from throughout the LCMS. Their topics covered a variety of issues: the importance of marketing, strengthening technology, developing parent relationships and other practical information.  
Also on tap were presentations by SLED graduates on the leadership projects they developed to benefit their individual schools — a program requirement. Marsha Hafer, for example, addressed her school's need for more up-to-date and reliable technology.
Tackling SLED and serving as a first-time principal made for a demanding year, but Hafer said she is grateful for the opportunity to hone her leadership skills — and for SLED resource professionals who came in handy.
"You don't want other people to make decisions for you, but you also want to hear how they walked through some situations you're going through," said Hafer, who conferred by phone with a longtime principal during an issue with a school parent.
"I can't tell you how helpful [the principal] was to me," Hafer said.
'We are a mission'
LCMS district education executives nominate outstanding Lutheran educators to participate in SLED. This year, the program received more nominations than the 25 available slots could handle.
That number is only about half the instructors the program once served, Schmidt said, pointing to another challenge facing LCMS School Ministry leaders — finding funding to continue a project that, over the years, has depended on charitable granting agencies.
Schmidt hopes funding sources will step forward — organizations or individuals who recognize the mission power of Lutheran schools.
"When we talk about bringing people to Christ who don't know Him, this agency [LCMS schools] is the best you have — and it's been that way since Lutherans came from Germany," Schmidt said, noting how LCMS forefathers started schools even before they opened church doors.
The educators had plenty of stories to back that claim.
"We are a mission," said Jonathan Heinemann, 28, teacher and athletic director at St. John's Lutheran School, Napa, Calif., where only about 20 percent of the school's families are St. John's members. "As more people move away from churches, it's at school where the kids can hear and learn about Jesus."
Ryan Melcher, 34, has no doubt that Gospel seeds are growing at Grace Lutheran School, Modesto, Calif., where he teaches and serves as athletic director. Eleven students have been baptized in the last three years, he says, with some baptisms taking place in chapel.
He told of one student whose desire to be baptized brought the youngster to tears. "He wanted it that badly," Melcher said.
Likewise, these faculty members feel strongly about the opportunity to better equip themselves for roles that can be uniquely challenging — and rewarding.
The daughter and granddaughter of Lutheran educators, Kerrie Roesler knows Lutheran instructors make a difference in young lives. She's seen the appreciation former students have for her parents and grandparents — including at a conference where a speaker told how his love for Christ "goes back to my fifth-grade teacher."
"I hope at some point I can make that kind of difference, too," said Roesler, whose grandmother was that teacher.
To learn more about LCMS School Ministry, visit https://www.lcms.org/schoolministry.
Kim Plummer Krull (kimkrull@sbcglobal.net) is a freelance writer in St. Louis and a member of St. Paul's Lutheran Church, Des Peres, Mo.
Posted July 2, 2015