The Rev. Dr. John R. Denninger of Springfield, Va., was elected to his second term as president of the LCMS Southeastern District (SED) on the first ballot by delegates to the district's 37th Regular Convention, which met May 14-16 in Greensboro, N.C.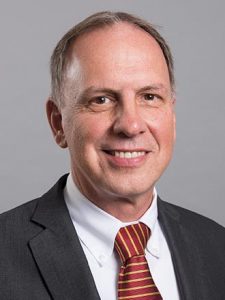 Also re-elected were:
Rev. Dr. David Maack, executive director of Lutheran Mission Society, Baltimore, as first vice-president, Northern Region (third term);
Rev. William Beyer, pastor of Holy Cross Lutheran Church, Clayton, N.C., second vice-president, Southern Region (second term); and
Rev. William Harmon, pastor of King of Glory Lutheran Church, Williamsburg, Va., third vice-president, Central Region (second term).
The convention theme was "God @ Work: Stand iN Faith — Walk iN Witness — Run iN Joy," based on Eph. 4:1-16.
During the convention, delegates passed resolutions on several important issues in the SED.
In light of recent events in Baltimore, the Theology and Practice Floor Committee accepted the late overture titled "To Give Gospel Witness in the Urban Neighborhood." The amended resolution, which passed with 82 percent of the vote, calls for congregations to honestly address the remnants of racism still present; to observe Aug. 9, 2015, throughout the district as a day of prayer for Baltimore; to gather a special offering that will provide grants to support local efforts for urban renewal; and to hold a prayer walk in local neighborhoods and cities as a sign of unity and the spirit of compassion.
The convention gathered hundreds of handmade cards from Lutheran school children and congregation members to hand out during the prayer walk.
One of the most debated resolutions of the convention was 05-15-05B, "To Request Guidance for Dealing with Issues Relating to Same-Sex Marriage." This resolution, which also was adopted, calls for resources that go beyond providing guidance for responding to requests to perform same-sex marriages. It asks for help when ministering to individuals who are currently in or who request state-sanctioned same-sex marriage.
With the adoption of Resolution 02-15-05A, the district celebrated the completion of Ablaze! goals ahead of schedule. In addition, the SED in convention also celebrated other goals that were met and exceeded, including the 153 congregations (goal: 100) that have become involved in mission outreach and the 101 new ministries (goal: 100) that have been started or planted. By God's grace, all 101 have survived and 22 are now chartered.
Delegates also voted to set new goals in the "iNeighborhood Initiative," which encourages congregations to go outside their church walls to connect the 32 million people who live in the neighborhoods and communities of the SED with Jesus.
Finally, delegates to the convention endorsed three areas of emphases for consideration by the next Synod convention as directed by Synod Bylaw 4.2.1c. They are:
Connecting the unchurched with Jesus (Witness);
Renewal/revitalization of existing ministries (Life Together); and
Lay missionary leadership development (Life Together).
Posted May 26, 2015