Longtime Lutheran Church—Missouri Synod and community leader Dr. Elizabeth "Betty" Duda of Cocoa Beach, Fla., died peacefully Dec. 24, among family members, after entering hospice care a few days earlier. She was 84.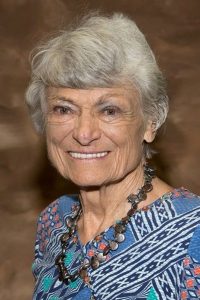 A memorial service was held Dec. 27 at St. Luke's Lutheran Church in Oviedo, Fla.
Duda was national president of the Lutheran Women's Missionary League from 1987 to 1991, and had also served the LCMS women's auxiliary as its Florida-Georgia District president and mission projects director.
She also had served as a member of the LCMS Board of Directors, including a term as the Board's vice-chairman.
In a Dec. 24 email to the auxiliary's board members, LWML President Patti Ross said Duda "determined early in her term that everything would be done for only one reason — to glorify the Lord.
"Secondly, she wanted the League to become a stronger faith and service organization that would attract and better represent all Lutheran women," Ross said, since Duda's LWML service "had done so much for [her] spiritually that [she] wanted every woman to experience it."
"We are sad to lose such a great sister," added Ross, "yet we are joyful as we think of Betty with Jesus to celebrate His birth this Christmas Eve and Day."
Duda served as president of many groups, including being the first woman elected to the board of Concordia College—New York, Bronxville, where she was chairwoman for five years. She also chaired Lutheran World Relief and the Lutheran Association of Missionaries and Pilots as well as Florida civic organizations including the Junior League of Orlando, Loch Haven Art Center, Civic Theater, Community Coordinated Childcare and the Central Florida Zoo.
Her service on numerous church- and community-related boards included those of Concordia University Chicago; Concordia University, St. Paul, Minn.; Wheat Ridge Foundation; Aid Association for Lutherans; People of the Book Lutheran Outreach; Mill Neck Manor; Reedy Creek Improvement District at Disney World; Winter Park Hospital; Rollins College; Sun Bank of Seminole; University of Florida Foundation; YMCA; and Christian Service Center.
She received three honorary doctorates for her untiring service, from Concordia College—New York; Rollins College, Winter Park, Fla.; and Concordia University, St. Paul, Minn.
"She was always like the Energizer bunny," said her daughter Elizabeth "Beth" Duda Wareham, according to a story in the Orlando Sentinel, "Community leader Betty Duda dies at 84."

"She was a role model and helped mentor others because she wanted to pass that legacy on and help show that you can really make a difference."
Duda's health problems, which included heart failure and diabetes, did not slow her down. As a former LWML president, she had taken part in the 100th anniversary celebration of the International Lutheran Laymen's League (LLL), Oct. 21-23 in St. Louis. The LWML and the LLL (which carries out its work as Lutheran Hour Ministries) are the Synod's two auxiliaries.
Duda "had a love for life and a love for giving, and it drove her," her daughter told the Orlando Sentinel.
According to a Dec. 26 news release from the LWML, "many will remember Betty not only for her inspiring leadership, but also for her humble service," and the release quotes Duda as saying, "My greatest obstacle over the years has been convincing people that I just wanted to serve the Lord. I had no agenda, no political motivation at all. Everything I've done is to serve."
Survivors include her husband, John, five daughters — Beth (Jon) Wareham of Merritt Island, Fla.; Linda Nichols of Geneva, Fla.; Pam (Brad) Jovaag of Gainesville, Ga.; Leslie (Kip) Schnake of Viera, Fla.; and Jenny (Bill) LaGrange of Oviedo (Duda was predeceased by another daughter, Janet) — nine grandchildren and four great-grandchildren.
In lieu of flowers, the family asks that memorial donations be made to any of the following:
Posted Dec. 26, 2016 / Updated Dec. 27, 2016, with information about memorials