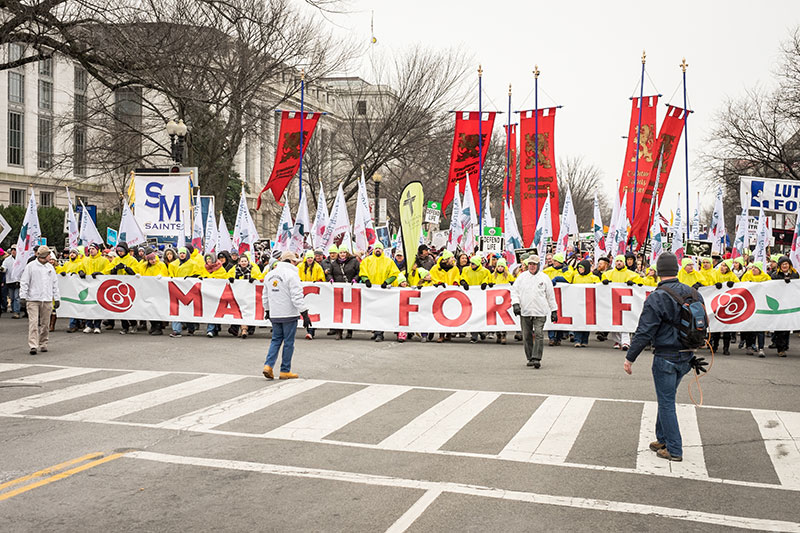 Forty-three years after the Roe v. Wade U.S. Supreme Court decision that legalized abortion, tens of thousands of pro-life people converged on Washington, D.C., and San Francisco, Jan. 22 and 23 respectively, to be a unified voice for the unborn and for the sanctity of life at all stages.
Undeterred by an impending blizzard in D.C. and rain showers in San Francisco, participants gathered to first hear from speakers such as 2016 presidential candidate Carly Fiorina and Center for Medical Progress (CMP) Director David Daleiden before beginning the marches.
These peaceful marches were marked by a sense of joy and hope, as pro-life participants spontaneously sang hymns and prayed while they walked. In stark contrast, counter-protestors angrily shouted pro-abortion slogans and obscenities as they stood along the paths of the marches.
Pro-abortion activists also posted vitriolic anti-Christian messages via social media during the marches. One person wrote, "You religious fundamentalists don't believe in body sovereignty or separation of church and state … By all means, waste your time praying for us lol. We'll be busy changing the world."
The D.C. march was particularly memorable for the LCMS, as participants included students from Concordia University Chicago and Concordia University Wisconsin, as well as other LCMS pastors and congregation members who were privileged to lead the entire march by carrying the March for Life banner.
"I am here to march because I love all people – no matter how big or small they are," said Jason Becker, a junior secondary-education major at Concordia University Chicago.
The 2016 March for Life and Walk for Life show how the revitalized pro-life movement remains strong more than four decades after Roe v. Wade, and LCMS Lutherans continue defending the sanctity of human life.
"Marching is having a voice — a very strong, unified voice. Even so, it is not merely a way of speaking against abortion, but a way of speaking for life," said Stephanie Neugebauer, director of LCMS Life and Health Ministries.
Posted Jan. 27, 2016