Dr. Iri Ramsey Skinner, a longtime leader in the Lutheran Women's Missionary League and LCMS black ministry, died Jan. 23 at her home in Selma, Ala. She was 93.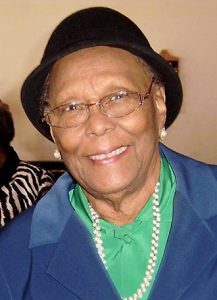 A funeral service is planned for 11 a.m. on Saturday, Jan. 30, at Trinity Lutheran Church in Selma.
Skinner, the first black woman to be elected to a national LWML office, served as the auxiliary's Louisiana District president from 1984 to 1986, and was elected in 1993 to the LWML's Executive Committee as vice-president of Mission Inspiration. She also served as second vice-president of the LWML's Louisiana-Mississippi District.
Skinner knew famed LCMS missionary-educator Dr. Rosa J. Young, and is among those who share their memories in the new film, "The First Rosa: Teacher, Confessor, Church Planter."
Skinner's contributions to the LCMS include serving on the former Board for Black Ministry Services and Commission on Black Ministry, the Southern District's Board of Directors and its Council on Women, the Board of Directors of the former Lutheran Social Services of the South and the Board of Regents of Concordia College Alabama. She also was director of Alumni Affairs and associate director of Development for the college in Selma, Ala.
She received an honorary doctorate from Concordia College Alabama in 2008, and was honored in 1993 with the "Points of Light in Christ" award from then-LCMS President Rev. Dr. A.L. Barry, who said he was impressed with her personal "vision statement," which read: "We must stay focused in the Word of God. If we lose sight of that, we can close up shop. … Without that, we don't have anything." Barry died in 2001.
Janis McDaniels of Greensboro, N.C., who met Skinner through their mutual service to LCMS Black Ministry, considered her "my mentor and my friend." McDaniels recalled a phone call she received in 1993, when Skinner told her, "Ida Mall is going to ask you to do something, and don't you dare say no!' " McDaniels said she "didn't know much about the LWML at the time, but I did know that Ida Mall was the national president," so when Mall called to ask if she'd consider serving on the auxiliary's Christian Growth Committee, McDaniels said yes, even though she had no idea what that was. "But I thought about what Iri said and I wasn't about to get on her bad side," laughed McDaniels, who's been active in the LWML ever since — some 23 years.
She last saw Skinner in September, in Selma, and said "she was still funny, and sharp as a tack." Her longtime mentor, she added, "always encouraged me" and "always made me laugh."
Mall, who was LWML president from 1991 to 1995, told Reporter that she considered Skinner — whom she had known for "almost 50 years" — a friend and "sister."
Even though Skinner and her husband of 56 years, the Rev. John "J.T." Skinner, who died in 2000, had no children of their own, her niece, Kaye Wolff of Southfield, Mich., said her aunt "helped raise" many of her siblings' children. "Any young person who needed some help, she would give it to them," said Wolff, who added that Skinner encouraged her to serve the LWML and "was very proud" that she "followed in her footsteps" to become the third black woman to hold a post on the auxiliary's Executive Committee.
The Rev. Dr. Bryant Clancy, the Synod's black-ministry executive from 1990 until his retirement in 2002, said Skinner had "river-deep faith in our Lord Jesus Christ."
Clancy described her as "full of faith … like the widow of Zarephath, Dorcas, Rachel, Leah and Ruth — of whom the Scriptures say 'built up the house of Israel.' Iri built up the Lutheran house."
A native of Alabama and one of 13 children, Skinner attended Lutheran elementary schools and graduated as valedictorian from Camden Academy Presbyterian High School in Camden, Ala. After her graduation in 1972 from Loyola University, New Orleans, she taught in Lutheran schools in Alabama, North Carolina, Tennessee and Louisiana as well as in public schools in Alabama and Louisiana. She also was a Sunday-school and Bible-class teacher for many years.
After her teaching career, she served 16 years as director of placement for the Louisiana State Employment Security Department.
Gifts in Skinner's memory may be made to:
Lutheran Women's Missionary League, Mission Grants, 3558 S. Jefferson Ave., St. Louis, MO 63118.
Concordia College Alabama, Alumni Association, 1712 Broad St., Selma, AL 36701.
Posted Jan. 27, 2016