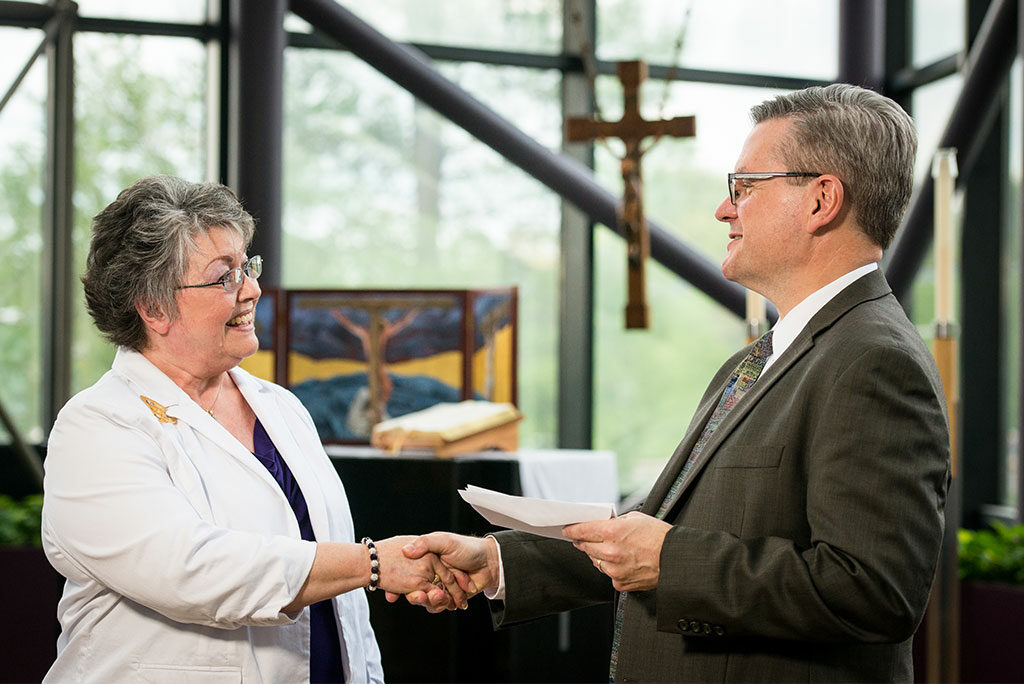 By Megan K. Mertz
LCMS Disaster Response will soon deploy 26 new disaster-response trailers around the country thanks, in part, to an $80,000 grant from the Lutheran Women's Missionary League (LWML).
LWML representatives presented the check for the grant — which was adopted at the organization's convention last June — to LCMS Chief Mission Officer Rev. Kevin Robson April 21.
"We are so excited to be a partner in this mission," said Sally Handrick, chairman of the Mission Grants Committee for the LWML, as she presented the check to Robson. "The women of the LWML have not only contributed their mite offerings, but they have contributed their prayers and concern."
According to the Rev. Michael Meyer, manager of LCMS Disaster Response, the trailers will greatly increase the capacity of LCMS districts and congregations to respond to disasters in their own communities.
Every trailer will be outfitted with a variety of tools, such as ladders, respirators, generators, saws and safety equipment. They also will be clearly marked with the LCMS' and recipient's name and contact information.
Those receiving the trailers — including congregations, districts and one Recognized Service Organization — are located in 21 districts around the country, where the trailers will be easily accessible when a flood, tornado or other disaster strikes.
"We originally committed to 20 trailers," Meyer said. "We had meetings with Home Depot to set up a group purchasing agreement and bring the costs down. Because of that, we determined that we could grant 22 trailer requests for the same cost. We received a total of 26 applications and have since held many discussions and committed to funding all 26 grants."
Trailer recipients have agreed to maintain the equipment and provide trained Lutheran Early Response Team members to serve in the community when needed.
Megan K. Mertz (megan.mertz@lcms.org) is a staff writer and managing editor of Lutherans Engage the World with LCMS Communications.
Posted May 2, 2016