The Rev. Dr. Melvin "Mel" Witt, a longtime former Air Force chaplain and director of LCMS World Relief, died April 30 in St. Louis. Witt, 89, had been suffering from cancer and pneumonia.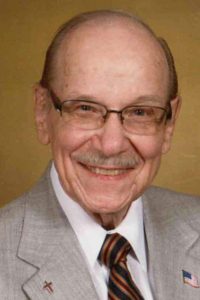 Visitation will be from 3 to 8 p.m. on Thursday, May 5, at Kutis South County Chapel, 5255 Lemay Ferry Road, St. Louis. Visitation also will be from 9 to 10 a.m. on Friday, May 6, at Lutheran Church of the Resurrection, 9907 Sappington Road, St. Louis, with the funeral service beginning at 10 a.m. at the church.
A 1952 graduate of Concordia Seminary, St. Louis, Witt served as an Air Force chaplain for some 21 years, with assignments both stateside and overseas — including two tours of duty in Japan, a 30-month tour in Libya and 13 months in Vietnam. U.S. assignments included Air Force bases in Tennessee, California, Texas, Alabama, Virginia and Nebraska.
Witt's Air Force career included more than six years in Command Chaplain offices, and he planned and coordinated the 1970 Christmas visit of "The Lutheran Hour" speaker Rev. Dr. Oswald C.J. Hoffmann to American troops in Vietnam, serving as Hoffmann's escort officer. Hoffmann died in 2005.
In 1972 Witt retired from Strategic Air Command headquarters with the rank of colonel to become director of LCMS World Relief in St. Louis, traveling to at least 33 countries — from Argentina to Zambia — on behalf of the Synod's human-care and development ministry. He resigned from that post in 1987 to accept the newly created position of LCMS World Relief development counselor.
Witt's awards and honors include 10 service medals and two honorary doctorates.
In a 1987 story in the Southeast Missourian (Cape Girardeau, Mo.) newspaper, Witt said that, too often, Americans give to charities from a feeling of guilt. "As Christians, we should give as God has blessed us," he said. "I don't see how a person who loves the Lord can see people in need and hurting and not help some. We can't help everybody, but we can help some people, one by one."
"We thank God for Mel's exemplary service," said LCMS President Rev. Dr. Matthew C. Harrison. "How many millions were assisted around the world during his tenure! For the decade I served LCMS World Relief and Human Care, he would stop by from time to time and provide encouragement. That meant a great deal to me. I'm honored to have known him."
Witt had an "extraordinary" faith, according to his son, David, and "never met a stranger." He had a lifelong trust in God, and "his gentleness, his kindness, his compassion … drew people to him. He's impacted many, many lives, and — even though he's left his earthly life" — Witt's "kindness and caring" spirit "will continue to impact many lives."
David Witt said he and others who knew his father will "miss his smile."
"He was dedicated to his calling, obviously," said the younger Witt. "I'm so thankful that he's with his risen Lord and Savior now and is no longer suffering, and is at peace. He was a good man, a good father."
In addition to David Witt and his wife, JoAnn, of Oakville, Mo., survivors include two other children: Janice Fredricksen-Naber of Dallas, and Steven Fredricksen of Fort Myers, Fla.; four grandchildren; and six great-grandchildren. Witt's wife, Alice, died in 2009.
Memorial contributions may be made to the Melvin and Alice Witt Student Aid Endowment Fund, c/o Concordia Seminary, 801 Seminary Place, St. Louis, MO 63105-3199, or Compassionate Companions, SSM Health — St. Clare Hospital, 1015 Bowles Ave., Fenton, MO 63026.
Posted May 4, 2016 / Updated May 5 and May 9, 2016