Flights are booked. Schedules are listed. Delegates are ready. Everything is falling into place for Lutherans to converge on Milwaukee July 9-14 for the 66th LCMS convention.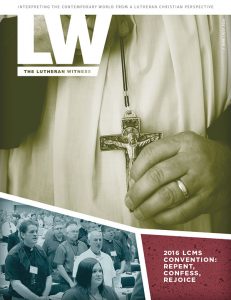 Those who won't be there can watch convention proceedings online at lcms.org/convention. But for those who can't wait until July, the combined June/July issue of The Lutheran Witness offers a sneak peek at what will be discussed and voted on this summer.
Readers will learn why Christ's service to His people through worship will guide the work of the delegates' day. The convention essayists, who will expound on the convention's "Upon This Rock" theme for the delegates, offer a quick look at what it means to "Repent, Confess, Rejoice" (the convention subthemes). Readers can even ponder the convention Bible study.
Synod leaders also have outlined a handful of substantial issues that will be showcased at the convention: evangelism, licensed lay deacons, revitalization and other topics. Information on the 2016 National Offering is included as well.
The biographies of the three nominees for president of the LCMS as well as a series of questions — submitted via LCMS social media — and answers from those men are also available.
Finally, quotes from both seasoned and new delegates will give subscribers a glimpse into everything from what topics matter to congregations, to how delegates pray in preparation for the convention.
Subscribe to The Lutheran Witness by visiting witness.lcms.org or, for more updates, like the magazine on Facebook.
Posted June 1, 2016