The Rev. Richard Ernest Muller — a retired professor at Concordia Theological Seminary, Fort Wayne, Ind., who was "beloved by his students," died peacefully in his sleep April 11 at the Towne House Retirement Community where he resided and that overlooks the seminary campus. He was 88.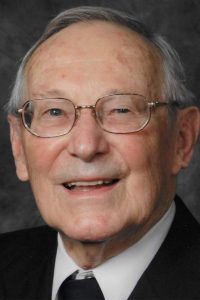 The funeral service was April 15 at Ascension Lutheran Church in Fort Wayne — a congregation he helped establish in 1977. Committal followed at Concordia Cemetery Gardens, Fort Wayne.
The Rev. Dr. John Stube — Muller's longtime pastor at Ascension and one of the congregation's first field workers after its founding — said Muller "was a very faithful, confessional man who gave direction and leadership to Ascension. He was, above all, a teacher of the faith. Richard had a humble, gentle spirit and was a wonderful role model for both clergy and laity."
"Richard Muller was a loving family man, faithful professor and a stalwart defender of 'the faith that was once for all delivered to the saints' (Jude 3)," Concordia Theological Seminary President Rev. Dr. Lawrence R. Rast Jr. wrote in a message to Reporter. "He was beloved by his students for his expertise as a professor and his sense of humor. His legacy lives on in the pastors who share the Christ he confessed and taught — with their congregations. I count it an honor to have been his student, colleague and [especially] a brother in Christ."
Muller, who earned his (pastoral) colloquy certificate from the Fort Wayne seminary in 1979, first worked there in 1978 as director of financial aid and assistant registrar. He was an associate professor of Systematic Theology at the seminary from 1979 until his retirement in June 2008. He also served as its acting and associate academic dean (1982-85) and registrar (1980-82 and 1985-88).
Muller developed and published three program courses for the seminary's DELTO (Distance Education Leading To Ordination) curriculum.
Born in New York City, he received a Bachelor of Science in Education degree in 1949 from the State University of New York, State Teachers College at Oswego (N.Y.); a Master of Arts in Education degree from Syracuse University in Syracuse, N.Y. (1957); and a Master of Divinity degree from Temple University, Philadelphia (1969).
While in college, he met his future wife of nearly 59 years — Catherine Elaine Kovac — who died in 2010.
He served as a radio operator overseas in the U.S. Army for two years, with an honorable discharge in 1953.
Leading up to his pursuing the M.Div. degree, he worked for General Electric Corp. in Utica, N.Y., and King of Prussia, Pa.
"Following the move to Pennsylvania, he developed an intense interest in theology," according to an obituary notice.
Muller is survived by a son, Dr. Peter (Deborah) Muller, a physician in Rocky Mount, N.C.; four grandchildren; and a great-grandson.
The family suggests that memorials be directed to Concordia Theological Seminary, 6600 N. Clinton St., Fort Wayne, IN 46825-4996 or Ascension Lutheran Church, 8811 St. Joe Road, Fort Wayne, IN 46835.
Posted April 18, 2016