The Rev. Dr. Robert H. King served as an officer of The Lutheran Church—Missouri Synod for more than 21 years, holding first through fourth vice-president positions in the Praesidiums of four Synod presidents.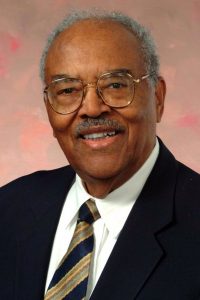 King — also a pastor, professor and author — died Sept. 6 from complications due to diabetes at a medical center in Jefferson City, Mo., at the age of 94.
A funeral service is planned for 1 p.m. on Wednesday, Sept. 14, at Trinity Lutheran Church, 803 Swifts Highway, in Jefferson City, with visitation at the church from 10 a.m. until the start of the service.
King — who was elected by seven national Synod conventions as a vice-president — served as LCMS third vice-president for three terms: 1986-89, 2001-04 and 2004-07; as second vice-president for four terms: from 1989 to 2001; and as first vice-president for five months in 2001 after the death of then-President Rev. Dr. A.L. Barry.
The Rev. Dr. Robert T. Kuhn, who served as LCMS president after Barry's death, said of King: "God has called one of the truly faithful servants to be with Him.
"We give thanks to God for the blessings that He bestowed upon Bob and the abilities that He gave him, which were so necessary in the work of the church. We pray that God would grant grace to those who mourn and give them the assurance of resurrection."
A 1949 graduate of Immanuel Lutheran Seminary in Greensboro, N.C., King also held master's degrees from Indiana University and the University of Pittsburgh, and a Ph.D. in education from Indiana University, where he was a Lilly Foundation Fellow.
As an educator, King was a graduate professor of adult education at Lincoln University in Jefferson City from 1970 to 1987, and taught in the D.Min. program at Concordia Seminary, St. Louis. He was an educational consultant to the U.S. Department of Health, Education and Welfare (now U.S. Department of Health and Human Services), and authored several journal articles on adult education.
His autobiography, Pastor Jenkins Said "Hang on to Matthew 6:33," was released by Concordia Publishing House (CPH), St. Louis, in 1999 as "a 'must-read' for anyone who aspires to serve." The 190-page book chronicles the life of King, who "faced more problems in his own life than most" — including poverty and a near-fatal illness — "and succeeded in spite of them."
The book's title refers to the "profound influence" of LCMS Pastor R.F. Jenkins upon King. As speaker at King's grade-school graduation in 1937, Jenkins had cited Matt. 6:33, encouraging the graduates to make God the center of their lives and trust in Him to provide.
"I hope your sermon means I can go to high school," King told the pastor afterward. King knew his family had no money for tuition.
"Son, if you really want to go to high school, the Lord will make a way somehow," Jenkins responded. "Hang on to Matthew 6:33."
That advice stayed with King through high school, college, seminary and graduate school, he said, as well as his ministries as a pastor, teacher and national church leader.
A $250,000 gift from an anonymous donor in 1994 was used to establish the "Robert H. King Minority Student Endowment Fund" to help cover tuition costs for minority students, especially African-Americans, at Concordia Seminary, St. Louis. King had a "special passion [for] recruitment of African-American men for the pastoral ministry," said then-seminary President Rev. Dr. John F. Johnson. "We are delighted that this fund will bear his name."
During the 2015-16 academic year, 13 students benefitted from the fund, which has provided some $7,300 per student per year in recent years, according to the seminary.
Among honors, King received the Christus in Mundo Award from Concordia University Wisconsin, Mequon, and the National Alumni Award from Concordia College (now Concordia College Alabama), Selma, Ala.
King served as pastor of Victory Lutheran Church, Youngstown, Ohio (1949-57); St. Philip Lutheran Church, Chicago (1957-65); and Pilgrim Lutheran Church, Freedom, Mo. (1977-97).
And he was a member of several boards, including the LCMS Board for Black Ministry and the boards of directors of the Lutheran Laymen's League, Lutheran Women's Missionary League and Valparaiso University.
His son, Roger King of Springfield, Mo., said his father "embedded wisdom into everyone he met" and recalled that "whenever I had a tough decision to make about something, and I would talk to him about it and would come to a conclusion, he would always say, 'That's a wise decision.' "
Roger King said he heard from other LCMS leaders that his dad "didn't usually say much at the Praesidium meetings, but when he did speak, people listened … because they knew that it was going to be a voice of reason and balance that pretty much let Christ guide the way instead of a political situation, or arguments, or something like that.
"It was always church first, and then himself and everything else second."
The Rev. Dr. Bryant Clancy, the Synod's black-ministry executive from 1990 until his retirement in 2002, told Reporter he most remembers Robert King "from his career as a professor. His advice began with a concise thought from his academic discipline, embellished with Scripture, and concluded with a quote from Luther's Catechism. He was so good at this that he became known as 'Catechism Bob.' I like that about him."
King had such a "deep love" for Immanuel Lutheran Seminary, his alma mater, he drove a car with its red-and-white school colors, noted Clancy: "Dr. King loved that Immanuel-color car."
Clancy said he and his wife, Elma, "admire Bob and Jean [King's wife of 67 years], their love for each other and their devotion to teaching and learning."
Survivors include Jean, of Jefferson City, and, besides son Roger, daughters Jocelyn King of Jefferson City and Jannelle King of New York City, as well as one grandchild, Casey King of New York.
Memorials are requested for:
the Robert H. King Minority Student Endowment Fund, Concordia Seminary, 801 Seminary Place, St. Louis, MO 63105 (please write the fund's name on the check's memo line), or online at csl.edu/give (choose the "Named Endowment" option and fill in the fund name in the blank next to the gift amount).
Concordia College Alabama, Attention: President's Office, 1712 Broad St., Selma, AL 36701.
Posted September 8, 2016