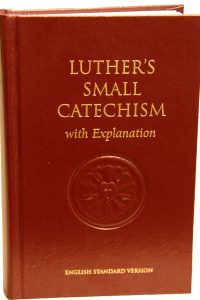 A first-draft field-test version of the revised "Explanation" to Luther's Small Catechism has been mailed to all LCMS congregations and rostered church workers for feedback to the Synod's Commission on Theology and Church Relations (CTCR) by Oct. 31.
And, the CTCR also would like feedback by that date from lay members of Synod congregations. Those who download and review the Explanation are urged to then complete a survey for feedback. The survey link is on the same web page.
The CTCR worked on the first draft of the Explanation revision in response to a 2013 LCMS convention directive for it to update the 1991 edition of the Catechism Explanation.
For more information, see a related story, "Draft of revised Small Catechism 'Explanation' to be mailed."
Posted September 6, 2016