New from Concordia Publishing House is Called to Vote: A Christian's Approach to Elections, a downloadable, reproducible four-week study that's designed to "spark thoughtful and biblical conversation about voting in a democracy and our duty as Christian citizens."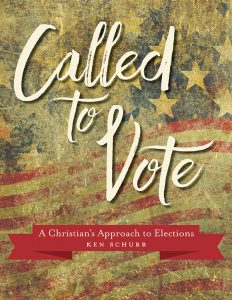 Written by the Rev. Dr. Ken Schurb, Called to Vote isn't a voting guide and doesn't endorse a particular candidate or political party. Rather, its intent is to help readers understand voting "as a result of being moved by the love of Christ, who first loved us."
Lessons cover these four topics:
Distinguishing between God's Word and our own human judgments.
Distinguishing, but not separating, God's two models of ruling.
Distinguishing oneself as ruled from oneself as "ruler."
Repentance and involvement in politics.
Each session includes an introduction, questions for discussion and a closing prayer. A leaders guide and student pages also are included in the study, which may be used in large and small groups.
To order Called to Vote: A Christian's Approach to Elections ($35, plus shipping, item no. 204215pdfWEB), call CPH at 800-325-3040, visit cph.org or click here.
Posted September 6, 2016