The Way of Concord: From Historic Text to Contemporary Witness by Concordia Seminary, St. Louis, Professor Emeritus Rev. Dr. Robert Kolb — a new book aimed at deepening understanding of The Book of Concord — is now available through Concordia Seminary Press, the publishing arm of the seminary.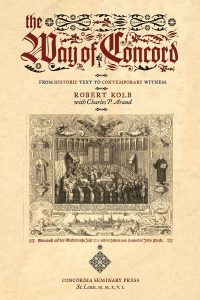 Kolb's new volume about The Book of Concord — the secondary authority for Lutherans — is being released this year in conjunction with the 500th anniversary of the Reformation.
The book's essays build on Kolb's and colleague Rev. Dr. Charles Arand's years of engagement with the confessional writings of the Lutheran Church. The new volume reflects their efforts to emphasize the role and usefulness of the confessional writings for identifying what it means to be Lutheran and for practicing the catechetical and pastoral insights produced by Martin Luther, Philip Melanchthon and their students who composed the Formula of Concord. Arand is the seminary's Eugene E. and Nell S. Fincke Graduate Professor of Theology and dean of Theological Research and Publication.
In The Way of Concord, readers will find six glimpses into Luther's theological genius that continues to provoke and shape global Christianity 500 years later.
"One of the strange but precious gifts of the 16th century Reformation to the Church, the confessional documents continue to shape and animate the public witness of the faith today," said the Rev. Dr. Erik Herrmann, director of the seminary's Center for Reformation Research. "With a lifetime of teaching the Lutheran Confessions, Kolb and Arand deftly weave together the historical events and the theology that moved the reformers to offer up their confession for the sake of God's people."
Kolb is the author of more than 170 essays published in academic journals and volumes on Reformation history and evangelism as well as numerous other books, including Martin Luther and the Enduring Word of God (2016); The Oxford Handbook to Martin Luther's Theology (2014); Luther and the Stories of God (2012); Martin Luther, Confessor of the Faith (2009); The Genius of Luther's Theology (with Arand, 2008); Bound Choice, Election, and Wittenberg Theological Method From Martin Luther to the Formula of Concord (2005); The Book of Concord (with co-editor Timothy Wengert, 2000); and Speaking the Gospel Today: A Theology for Evangelism (1995).
The Way of Concord: From Historic Text to Contemporary Witness is available for $14.95, plus shipping, from the seminary's online store. The book also may be purchased at the seminary's campus store, 801 Seminary Place, St. Louis, MO 63105, and from Amazon.com.
Posted June 7, 2017